F-35B Forced to Land, Leaking Fuel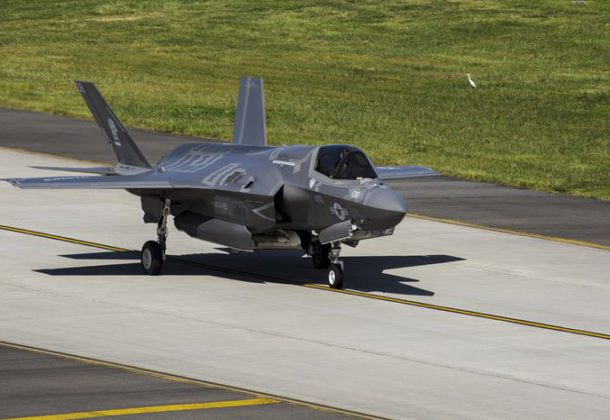 Morning Coffee is a robust blend of links to news around the internet concerning the Naval Air Station Patuxent River

economic community. The opinions expressed here do not reflect opinions of the Leader's owners or staff.
An F-35B was reported leaking fuel after forced to land when the fuel light came on, reports Marine Corps Times, and that the engine abruptly shut off before coming to a complete stop because the aircraft was out of fuel. The F-35B can carry nearly 14,000 pounds of fuel.
Two brands of Chinese cell phones are considered an unacceptable risk to DoD personnel and no longer sold on military exchanges, reports Defense Systems.
The 2019 National Defense Authorization Act could put a total government ban on the Chinese devices if House Armed Services Committee Chair Mac Thornberry (R-TX) has his way, reports FCW. The preview of the chairman's full NDAA markup includes funds for space warfare, artificial intelligence, and direct energy programs and policy.
Rep. Thornberry's plan retains his proposal for a 25 percent cut to more than two dozen Pentagon support offices, which employ hundreds of thousands of government employees and contractors, but, reports Breaking Defense, the Democrats oppose the plan as unrealistic and unnecessary and that would eliminate critical support functions.
While a crisis for families, the Navy finds no statistical crisis in the six-year high in aviation accidents and fatalities, reports Military Times of the 12 fatal accidents claiming 35 military pilots and crew. Navy Secretary Richard Spencer said the five-year average showed "we're not out of the norm at all."
The Pentagon is on the cusp of capability to release a plague of drones from the belly of an aircraft,  reports The Washington Post. "You can send volleys of swarms over and over again and really just overwhelm an adversary with that complexity," said Tim Keeter, a deputy program manager and chief engineer at Dynetics, which won the 21-month DARPA contract for the project.
A European surveillance drone to rival those of China, Israel, and the US is being developed by the French, German, Italian, and Spanish governments in a cooperative aerospace project involving Airbus, Dassault, and Leonardo, reports Aviation Week. The project is billed as a key stepping-stone for other multinational programs, including the new European fighter.
The Navy is focusing its attention away from terrorism, toward major competitors China and Russia, reports Defense News. The Navy disestablished the command seven years ago. The re-establishment is in response to a sharp increase in Russian naval activity in the Arctic and North Atlantic.
The court-martial of Cadet 1st Class Samuel Kyle Fuller, a senior cadet at the Air Force Academy charged with sexual assault, began this week, reports Air Force Times.
China denies using lasers on US aircraft in Djibouti, reports Military Times. The US issued a formal complaint that aircraft had been targeted on several occasions in the last few weeks. Lasers can injure or temporarily blind pilots.
The first of 573 Super Hornets slated to undergo a comprehensive refurbishment arrived at Boeing's St. Louis, MO, facility late last month, reports IHS Jane's 360.
Contracts:
Eagle Systems Inc., California, Maryland, is awarded a $27,468,016 cost-plus-fixed-fee, indefinite-delivery/indefinite-quantity contract to provide support services in performing and applying supply chain management in support of the Naval Air Warfare Center Aircraft Division's Special Communications Mission Solutions Division, including supply support and material handling functions. Work will be performed in St. Inigoes, Maryland (68 percent); Fayetteville, North Carolina (20 percent); and Lexington Park, Maryland (12 percent), and is expected to be completed in May 2023. No funds will be obligated at time of award; funds will be obligated on individual delivery orders as they are issued. This contract was competitively procured via a 100 percent small business set-aside request for proposals; three offers were received. The Naval Air Warfare Center Aircraft Division, Patuxent River, Maryland, is the contracting activity (N00421-18-D-0020).
Northrop Grumman Systems Corp., Richmond, Virginia, was awarded an $114,465,626 modification (0001 CX) to contract W91QUZ-07-D-0005 for services related to Global Support System Army Enterprise Resources Planning program. Work will be performed in Richmond, Virginia, with an estimated completion date of April 13, 2019. Fiscal 2018 operations and maintenance (Army) funds in the amount of $26,480,000 were obligated at the time of the award. US Army Contracting Command, Rock Island Arsenal, Illinois, is the contracting activity.
ECS Federal LLC, Fairfax, Virginia, was awarded a $48,000,608 modification (P00004) to contract W911QX-17-C-0045 to provide analysis of large structured and unstructured data sets in order to provide insight to the warfighter on the tactical edge using modern computational and algorithmic techniques through creation of a prototype environment with prototype technologies to uncover key insights with large data sets using robust ontologies created through data science partnership with the Department of Defense research laboratories and universities. Work will be performed in Fairfax, Virginia, with an estimated completion date of March 28, 2019. Fiscal 2018 research, development, test and evaluation funds in the amount of $14,000,000 were obligated at the time of the award. US Army Contracting Command, Aberdeen Proving Ground, Maryland, is the contracting activity.