F-35B Debuts at Rugged Exercise Red Flag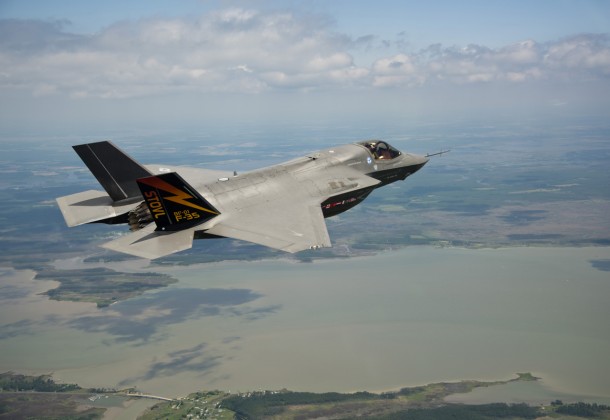 Morning Coffee is a robust blend of links to news around the Internet concerning the Naval Air Station Patuxent River

economic community. The opinions expressed here do not reflect opinions of the Leader's owners or staff.
The Marine Corps' F-35B Joint Strike Fighter recently made its debut at the famous Exercise Red Flag, which puts aircraft and pilots through rigorous advanced aerial combat training. The current Red Flag began July 11 and runs through July 29. Officials said the F-35B has participated in every exercise and has performed well, reports National Defense. Scenarios include air-to-air and air-to-ground missions.
Military pressure and intelligence sharing are two key elements in defeating the Islamic State of Iraq and the Levant, the chairman of the Joint Chiefs of Staff told reporters after concluding a three-day visit to Afghanistan. Marine Corps Gen. Joe Dunford said similar pressure has to be applied to law enforcement and intelligence perspective throughout Europe, DoD News reports.
US Air Force leaders  signaled an interest in developing a new aircraft dedicated to close air support as a replacement to the venerable A-10 Thunderbolt II, commonly known as the Warthog, DoD Buzz reports.  The appearance of that desire on the USAF wish list smacks into an expensive reality: the Air Force has repeatedly identified its top three acquisition programs as the F-35A Joint Strike Fighter made by Lockheed Martin Corp., the KC-46A Pegasus refueling tanker being developed by Boeing Co., and the as-yet-unnamed B-21 long-range strike bomber being developed by Northrop Grumman Corp. And it's struggling to pay for those.
Lockheed Martin is forging ahead with its planned production of the first two F-35As for Turkey. Turkey would receive its first two jets in Lot 10 of low-rate initial production. Lockheed is not assembling those aircraft yet in the factory, but assembly should begin within the next six to 12 months, Lockheed spokesman Mike Rein confirmed to FlightGlobal.
The US State Department approved a possible foreign military sale to the United Arab Emirates for more than 14,000 Paveway guided bombs and Joint Direct Attack Munition kits worth an estimated $785 million, Defense News reports. The proposed deal comes as US Secretary of State John Kerry met with his counterparts — Sheikh Abdullah Bin Zayed of the United Arab Emirates, Saudi Foreign Minister Adel Al-Jubeir, and recently appointed British Foreign Secretary Boris Johnson — in London on July 20 to discuss ongoing operations in Yemen.
The Polish Ministry of Defense aims to spend at least 83 billion zloty (US $21 billion) on acquisitions of new weapons and military equipment for the country's armed forces, according to Poland's Deputy Defense Minister Bartosz Kownacki, Defense News reports. Earlier this month, Polish Defense Minister Antoni Macierewicz said Poland will most likely sign a deal with the US government and Raytheon to acquire Patriot missiles.
With more than 70 employees in its war game and exercise unit, Booz Allen Hamilton is expanding the type of simulations it handles as well as the purpose of these exercises. The company has long conducted war games — including the board-game-style exercises most often associated with the term. But about two years ago, Booz Allen consolidated its smaller war gaming teams into a single unit. That business has taken on an increasingly wide variety of exercises, Inside Defense reports.
A new report highlights how NASA's relationship with the Defense Department has kept the space agency primarily unscathed by sequestration, NextGov reports. NASA technologies such as robotics, autonomous systems, and artificial intelligence are key to DoD's Third Offset Strategy, the Pentagon's plan to keep its military ahead of the rest of the world. The strategy relies on advancements in computing, battle network command and control, and weapons technologies, among other areas.
In a letter to the Senate and House Armed Services Committees, DefSec Ash Carter has protested potential cuts to the Pentagon's senior executive service, warning of negative consequence because the department already operates with fewer senior executives compared to the rest of the federal civilian workforce, Government Executive reports.
Video: The USS Thach withstood practice live fire for 12 hours before sinking in RIMPAC 2016, the world's largest international maritime exercise, underway until Aug. 4.  Watch the video of the Thach bombardment here, from DoD via CNN.