F-35 Getting Closer to Combat Readiness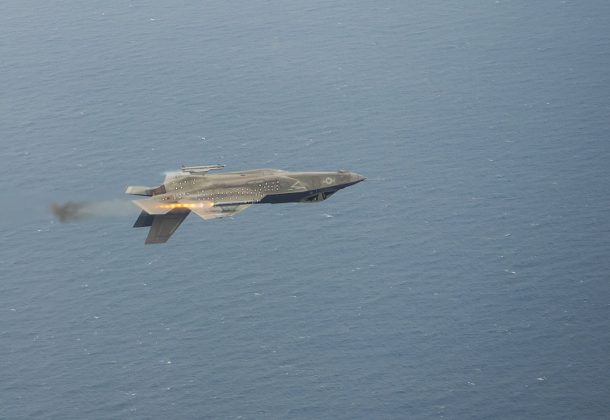 Morning Coffee is a robust blend of links to news around the Internet concerning the Naval Air Station Patuxent River

economic community. The opinions expressed here do not reflect opinions of the Leader's owners or staff.
The F-35 is getting closer to full combat readiness, reports theaviationist.com, as pilots test the jet in challenging environments, most recently in June by firing a AIM-9X air-to-air missile while inverted. The missile launch demo was flown by Marine Corps test pilot Maj. Eric Northam of Air Test and Evaluation Squadron Two Three, based at NAS Pax River.
VADM Mat Winter, director of the Joint Strike Fighter program, has asked Naval Air Systems Command and Air Force Materiel Command to develop depot activation plans for software sustainment on their respective variants of the F-35, reports ExecutiveGov.
President Donald Trump unveiled Monday night his strategy for the war in Afghanistan. Though a critic of US military involvement in Afghanistan, the president said he will deploy additional forces there as well as pressure Pakistan to do more, reports Reuters.
In a move that "will strengthen our cyberspace operations and create more opportunities to improve our nation's defense," President Trump elevated the US Cyber Command to the status of a unified combatant command, reports Breaking Defense. DefSec James Mattis will review whether to separate the command from the National Security Agency, Defense News reports.
Attendees at the recent 2017 Future Naval Force Science & Technology Expo got to see a quadcopter drone, called the Naviator, rise from a pool of water and rise into the air. Defense Systems reports it is the first successful hybrid aerial-aquatic drone.
The USS John S. McCain collided Sunday with a commercial tanker just outside of the Malacca Straits that has left 10 crew-members missing and five others wounded, Navy Times reports. This is the second collision involving a US Navy warship in recent months. The USS Fitzgerald collided with a commercial ship, killing seven sailors. The chief of naval operations has called for a comprehensive review of these incidents in the Pacific, CBS News reports.
The US Coast Guard has expanded its search for five crew members of the Army Black Hawk helicopter that crashed into the Pacific Ocean last week off the coast of Hawaii, Army Times reports.
Wreckage of the World War II cruiser, the USS Indianapolis, has been discovered at the bottom of the Pacific Ocean, The Japan Times reports. The ship, which had delivered components crucial to the atomic bomb dropped on Hiroshima, had been sunk by Japanese torpedoes July 30, 1945.
About 74 percent of DoD positions that need Senate confirmation are yet to be filled, Defense News reports. A handful of Pentagon nominees will be waiting for Senate confirmation in September.
Navy Times reports that it's been slow getting women into jobs in the Navy's special warfare community, including the SEALs. It has been more than a year and a half since the military opened all jobs across the services to women.
St. Mary's County's first-ever TEDx — Technology, Entertainment and Design — will be held Sept. 9 at Leonardtown High School, somd.com reports. Among the speakers will be Adrienne Somerville, NAVAIR Community Management Program manager; Allison Righter, president and founder of Wings for Val Foundation; and Amy Looney, vice president of the Travis Manion Foundation.
Contracts:
Contrack Watts Inc., McLean, Virginia, is being awarded a $41,167,515 firm-fixed-price contract for construction of upgrades to the existing sanitary sewer system at the Naval Base Guam. The work to be performed provides for replacement, rehabilitation and upgrade of sewage collection systems throughout the Naval Base Guam and outlying areas.  The outlying areas include Nimitz Hill, Naval Hospital, Polaris Point, Ordnance Annex, and Apra Palms Housing.  Work will be performed in Joint Region Marianas, Guam, and is expected to be completed by January 2020. Fiscal 2016 military construction (Navy) contract funds in the amount of $41,167,515 are obligated on this award, of which $9,732,991 will expire at the end of the current fiscal year. This contract was competitively procured via the Navy Electronic Commerce Online website, with six proposals received. The Naval Facilities Engineering Command, Pacific, Joint Base Pearl Harbor-Hickam, Hawaii, is the contracting activity (N62742-17-C-1325).
Markon Solutions, Falls Church, Virginia, is being awarded a $60,000,000 indefinite-delivery/indefinite-quantity (IDIQ) contract. The objective of this contract action is to acquire construction management technical support services for Washington Headquarters Services. Services include construction project planning, design planning, and construction management. Work performance will take place in Washington, District of Columbia; Alexandria, Virginia; and Adams County, Pennsylvania. $200,000 will be obligated at award of the basic IDIQ contract. Appropriate fiscal year Pentagon Reservation maintenance revolving funds will be obligated on all subsequent task orders. The expected completion date is Feb. 20, 2023. Washington Headquarters Services, Arlington, Virginia, is the contracting office.
Enterprise Services LLC, Herndon, Virginia, has been awarded a $7,293,539 modification P00009 to previously awarded task order HQ0423-16-F-0044 for support of the Defense Civilian Payroll system. The modification brings the total cumulative face value of the contract to $14,115,613. Work will be performed at Indianapolis, Indiana, with an expected completion date of Sept. 30, 2018. Fiscal 2018 operating funds in the amount of $7,293,539 are being obligated at time of award. The Defense Finance and Accounting Service, Columbus, Ohio, is the contracting activity.