F-35 Fleet Grounded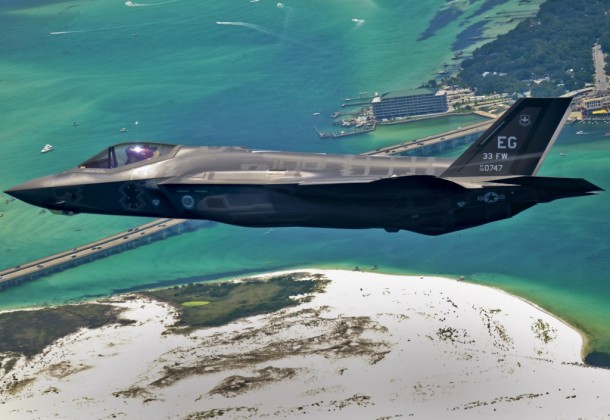 Morning Coffee is a robust blend of links to news around the internet concerning the Naval Air Station Patuxent River economic community. The opinions expressed here do not necessarily reflect those of the Leader's owners or staff.

The Pentagon grounded its entire fleet of F-35 fighter jets after one caught fire at Eglin AFB, reports The New York Times. The grounding comes as the plane was preparing to make its international flying debut at two air shows in the UK beginning this week. The stealthy jet already missed its scheduled July 4 flyover appearance at the dedication of the Queen Elizabeth, Britain's newest aircraft carrier. Rear Admiral Kirby said in a weekend press release, "Preparations continue for F-35 participation in international air shows in the United Kingdom, however a final decision will come early next week." If the F-35B is going to fly at the UK airshows, then the four planes now at NAS Patuxent River probably need to take off no later than Tuesday morning.
The Navy is forecasting the workplace of 2025 will feature UAVs, gesture-controlled robots and virtual meetings, according to C4ISR & Networks. Inside a lab space called Blue Shark, researchers are exploring new applications that combine display technologies and 3D visualization systems.
The new DoD "Homes.mil" website's launch, originally set for last week, moved to September 8, according to the Military Times. The site for service members and their families will help them with available rentals in civilian communities, privatized military housing and government-owned housing.
Low military pay and federal budget cuts have trimmed military benefits but when it comes to financial education, service members are not receiving important training despite efforts by every branch of the military, according to The Fiscal Times.
The senior enlisted adviser to the Joint Chiefs chairman wants input from service members about compensation or transitioning to the civilian world, reports the Military Times. Marine Sgt. Maj. Bryan Battaglia is requesting questions from troops, family members and veterans by July 11 that he can answer on a televised town hall meeting that will air next month on American Forces Network.
Navy technician Robert Cyliax just wanted to go home after the end of WWII and was not concerned with paperwork which resulted in his not receiving his earned medals and ribbons, according to philly.com. Seven decades later, Mr. Cyliax has now picked up 5 medals and other awards thanks to the efforts of his family.
Naval Air Systems Command awarded an indefinite-delivery contract to L-3 Communications' Vertex Aerospace LLC to maintain the Navy's fleet of Boeing T-45 Goshawk training jets, reports SEAPOWER Magazine. The $151 million contract obligates L-3 to provide all three levels of maintenance for the T-45 fleet: organizational, intermediate and depot level. The 200-aircraft fleet is located at naval air stations in Kingsville, Texas; Meridian, Miss.; Pensacola, Fla.; and Patuxent River, Md.