Engineers Honor UCAS Team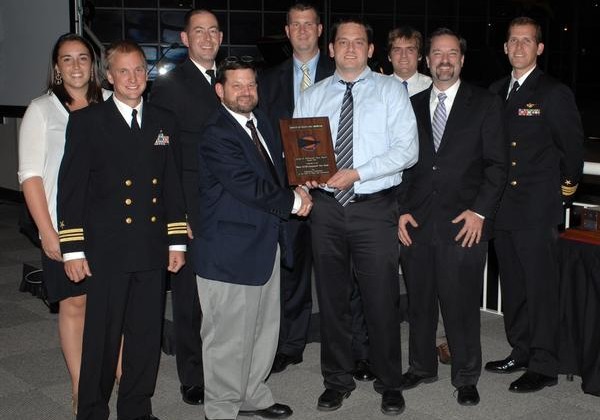 By PEO(U&W) Public Affairs
The Navy Unmanned Combat Air System Integrated Test Team (ITT) was recently recognized for their accomplishments by the Society of Flight Test Engineers.
Members from the team received the James S. McDonnell Award For Outstanding Team Achievement In The Field Of Flight Test Engineering during a banquet at the Society's 42nd Annual Symposium in Seattle, Wash., Aug. 11.
"Your nomination listed numerous challenges that were met by a very impressive team to accomplish historic events and developments in the field of flight test engineering and Naval Aviation, said Pete Donath, SFTE president, in the award announcement.
Recently, the N-UCAS team accomplished the historical first carrier touchdown of an F/A-18D surrogate aircraft emulating an unmanned vehicle using systems developed as part of the Unmanned Combat Air System Carrier Demonstration (UCAS-D) program.
"The exceptional support and collaboration of the entire team has set us up very well to achieve our ultimate milestone -autonomous landing of the X-47B aircraft on the aircraft carrier in 2013," said Capt. Jaime Engdahl after surrogate tests last month.
Ship integration efforts and flight test activities in preparation for sea trials in 2013 continue to be the team's focus. Flight testing is underway at Edwards Air Force Base and aircraft will transition to Pax River later this year.
"The team has worked vigorously since the program's inception in 2006," Engdahl added. "Because of the joint efforts of our Navy, Air Force, and industry team, every day we move closer to demonstrating the first carrier-based recoveries and launches of an autonomous, low-observable relevant unmanned aircraft."