'Engineer Like a Girl' at CSM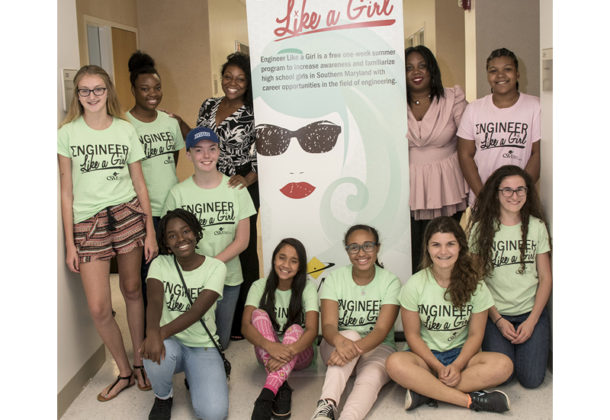 For the second year, girls in the region converged on the College of Southern Maryland Leonardtown Campus so they could "Engineer Like a Girl," attending a week-long camp that focused on a wide range of engineering disciplines.
The idea is the brain child of Shadei Jones, who was looking for ways to get more young women to consider careers in the engineering field. She thought there should be more programs for middle and high school students to make them aware of the occupations they could have with engineering education.
"Engineer Like a Girl" aims to show girls the types of jobs engineers do and to see engineers at work. Another function of the camp is to stomp out negative stereotypes that are commonly associated with the aptitude of women who pursue careers in fields related to science, technology, engineering, and math, or STEM.
"Women have the talent and the ability. It's time to send a message that science and math aren't just for boys," Ms. Jones said.
Camper Elizabeth Trossbach agreed.
"It is important for our society to have women engineers because this field is currently lacking women's intelligence, creativity and values in solving today's problems," said Ms. Trossbach, who just began ninth grade at St. Mary's Ryken High School. "By encouraging more women toward engineering careers, our country will become much stronger by doubling the number of technical people working to make a better world."
In the US, women make up about 20 percent of the engineers. According to the National Science Foundation, only 7.9 percent of mechanical engineers are women and 10.7 percent of electrical or computer hardware engineers are women.
"Those low statistics are exactly why we have this program and why our program is so important," said Ms. Jones, who has a degree in manufacturing engineering. "There is a shortage of female engineers so hopefully this will help get some exposure to young ladies so they will consider engineering as a career choice."
Nine girls attended the camp, where they participated in workshops and hands-on activities like making a robotic arm and building a cellphone detector. Each girl kept a journal and shared her thoughts at the end of each day. The camp attendees heard from civil engineer Jacqueline Bowman; Jehnae Linkins, a biomedical engineering doctorate candidate at the University of Delaware; motivational speaker Antoinette Jackson of Heart of Appreciation; and Patuxent River Naval Air Station engineer Bobbie Diedrich.
Jehnell Linkins, a CSM career and academic adviser, talked about planning for college and engineering careers and majors.
Dr. David John Barrett, director of engineering education and research partnerships at Naval Air Warfare Center Aircraft Division (NAWCAD), spoke to the campers about the Southern Maryland Pathways Program in Engineering, a partnership between CSM, the University of Maryland (UMD) A. James Clark School of Engineering, the U.S. Navy and the Southern Maryland Higher Education Center. When they complete the engineering curriculum at CSM, students can transfer with junior status to earn a mechanical engineering degree at UMD. Students also have the opportunity to do an internship with NAWCAD, a division of the Naval Air Systems Command at Pax River, with a possible employment opportunity after they successfully graduate and complete all of the Pathway program requirements.
Campers spent one of the days visiting Pax River NAS. Ms. Jones said the field trip was one of the highlights of the camp because the girls got to see the engineers at work. "They got to do some hands-on projects and see some really cool things," she said.
But best of all, they saw Diedrich, a former CSM student who had gone through the Pathways program, conduct a demonstration in one of the engineering labs on base, Ms. Jones said.
"The camp is so rewarding, especially seeing the girls get interested and excited about the projects, to see the 'light go on,'" Ms. Jones said. "They enjoy being around other girls who are interested in the same things they are. Sometimes in school they might be one of two or three girls in their classes or Advanced Placement courses. I like giving these young ladies the opportunity to do something during the summer with other students who are like them."
The camp, which the students attend at no charge, is sponsored by the CSM Foundation and Southern Maryland Chain Chapter, The Links, Inc. To view photographs from the camp, visit this website.
To learn more about the Southern Maryland Pathways Program in Engineering, visit CSM's website. For more information regarding admission or transfer in the Pathways program, contact Jones at 301-934-7747 or [email protected].
For more about the College of Southern Maryland, visit their Leader member page.