EAA Introduces "Young Eagles" to Flying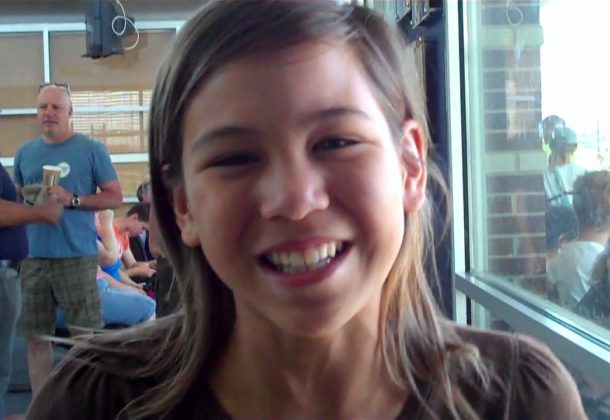 Twice a year members of Chapter 478 of the Experimental Aircraft Association take young people flying, for free. The Young Eagles program takes off from Chesapeake Ranch Estate's airfield in the fall and every June they take off from St. Mary's Airport, drawing at times hundreds of participants.
"A lot of times you can't walk in the terminal," said Joe Spelz who oversees the EAA's St. Mary's Young Eagles program. This year, in competition with a variety of other events in the county, it was merely difficult to thread through families who brought their children aged 8 to 17 for a chance to experience the joy of flying. Fifteen volunteer pilots offer rides in their small planes and also in a recently added helicopter. Meet Patience Yeh in the video below (and pictured above) to hear a bit about that helicopter.
Chapter 478, comprising primarily St. Mary's and Calvert county pilots, is part of the worldwide network of EAA chapters. According to their website, "EAA embodies the spirit of aviation through the world's most engaged community of aviation enthusiasts." Indeed, the enthusiasm of the pilots easily matched the excitement of the young people attending the Young Eagle program for a chance to fly.
Begun in 1952, the organization initially grew from pilots who wanted to build and fly their own planes. In a video below EAA member Steve Carruthers gives a mini-lesson on how planes work and what you need to know to fly one. He uses the one-seater plane he built himself to demonstrate.
The organization grew into its current 200,000 plus membership of pilots who may or may not have ever built their own plane, but who sought the camaraderie of sharing their passion for flying as well as building and restoring recreational aircraft.
In 1992 the Young Eagles program was launched, backed by a host of celebrity aviators, since then including Harrison Ford and Chesley Sullenberger, the commercial pilot who successfully landed US Airways airplane in the Hudson River after it was struck by a flock of geese when flying out of LaGuardia Airport.
The program is offered free of charge through the generosity of EAA member volunteers. Since 1992, more than 2 million Young Eagles have enjoyed a flight through the program, said Mr. Spelz.  Young Eagles have been registered in more than 90 different countries and have been flown by more than 41,000 volunteer pilots.
The Young Eagles program, started in 1992, holds the best safety rating in aviation, explained EAA member Don Hammer.
Mr. Spelz introduced Mr. Hammer, who serves as the "Air Boss" providing the overall safety briefing for the event. During Mr. Hammer's description of the program one of the volunteers, a member of the Civil Air Patrol, excused himself to go answer an "ELT call." That would be, Mr. Hammer explained,  the sounding of an emergency locator transmitter in Western Maryland. The call had nothing to do with the June 10 Young Eagles program beyond the Civil Air Patrol also sharing the same venue, St. Mary's County Airport.
"There's a lot more here than meets the eye," Mr. Spelz said of the airport, specifically praising the ongoing construction of a full taxiway and an extended runway. These and other recent improvements to the airport, he said, were welcomed by pilots as increasing safety and adding to the attractiveness of the airport. "It's really expanding," he said, "it's getting more every day, and more pilots." But, he added, "we need a restaurant."
Recreational pilots, he said, like to take off, fly a bit, and stop in for lunch. It is this type of freedom and joy the EAA hopes to instill through the Young Eagles program. The goal is to cultivate more young pilots. The goal of the program had been to fly one million youngsters by the 100th anniversary of the Wright Brother's first flight in 1903. They met that number well in advance of the anniversary.
The St. Mary's County Airport may soon meet Mr. Spelz's restaurant goal as well. Expansion ongoing to the west of the terminal includes the new taxiway he referenced and will ultimately hold commercial space for aviation services to meet the need of the growing number of pilots who call St. Mary's their home base.
Meanwhile, according to the EAA website, "Whether you fly, build, restore or simply enjoy airplanes and aviation, you are welcome to attend our events and join our chapter. We are a group of aviation enthusiasts, aircraft builders, and pilots who get together with like minded people to share ideas, exchange information, encourage safety, serve the local aviation community and have a lot of fun doing so. Please come to our next meeting or event as our guest." Get more information here.