Drones Now World's Weapon of Choice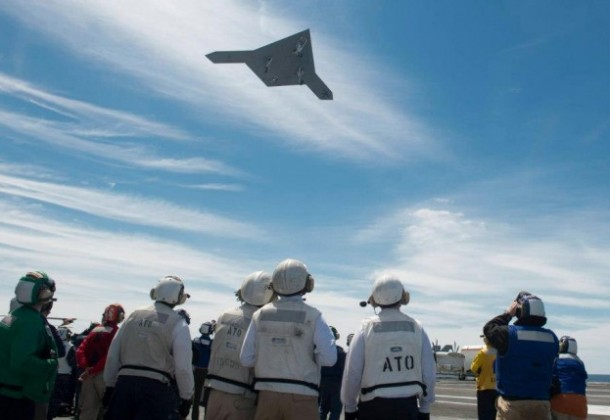 Morning Coffee is a robust blend of links to news around the internet concerning the Naval Air Station Patuxent River economic community. The opinions expressed here do not necessarily reflect those of the Leader's owners or staff.

Drones have changed the way wars are conducted and are now are the world's weapon of choice, CBS News reports.  This increasing role is stoking the ongoing debate on associated moral, legal and tactical issues.  The U.N. has issued an interim report that states the growing role of drones has "caused disproportionate civilian casualties."
A pre-solicitation FedBizOpps notice reveals that the Navy intends to solicit a contract with Boeing for up to 36 F/A-18E/F Super Hornet and E/A-18G Growler aircraft in FY2015, states Flight Global.  The Navy also specifies in a separate pre-solicitation notice a possible acquisition of up to 84 F414 engines from General Electric used by both aircraft.
The first F-35C airborne separation test of a weapon has been completed recently, Lockheed Martin reports.  The inert 500 pound Paveway II laser guided weapon was released over an Atlantic Ocean test range.
Chief of Naval Operations, Admiral Jonathan Greenert, welcomes Army help on cyber and electronic warfare issues and emphasized that ground forces can supply assistance in areas that the Navy can't provide, according to Breaking Defense.   This includes supercomputers, electronic warfare systems and other technology that is too large or requires excessive power to exist on a ship.   Admiral Greenert also believes electronic warfare aircraft such as the EA-18G Growler and the E-2D Hawkeye can play more important roles than their supported strike fighters.
Navy Personnel Command (NPC) Internet applications supporting personnel activity are experiencing downtime due to efforts to provide increased network reliability and security, according to the Navy News Service.   Affected service includes BUPERS Online (BOL) access and applications for selection boards, retirements and fleet reserve processing.  There are workarounds in place while the improvements are implemented.
The first DDG-1000 stealth destroyer was launched in Maine this week, states CNN.  The 610 foot USS Zumwalt carries cutting edge weapons that are effective at over 60 miles and becomes the largest stealthy ship in the Navy.  The DDG-1000 program was initially allocated $29 billion to develop, design and construct seven ships but cost overruns slashed production to three destroyers.
The Gerald R. Ford (CVN 78), the first new nuclear aircraft carrier class design since the early 1970s, is in final preparations for its November 9th christening in Newport News, Virginia reports DefenseNews.  The 1,092 foot ship, although not officially launched, is now floating in its graving dock.