DoD Needs BRAC to Shed Excess Infrastructure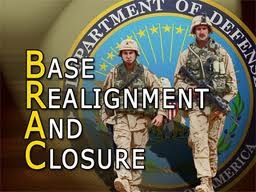 Morning Coffee is a robust blend of links to news around the internet concerning the Naval Air Station Patuxent River economic community. The opinions expressed here do not necessarily reflect those of the Leader's owners or staff.

DoD needs a BRAC. Pentagon acquisition chief Frank Kendall says the military cannot maintain excess infrastructure, according to Defense.gov. DoD estimates the 2005 Base Realignment and Closure process halved a 25 percent excess of infrastructure identified in 2004. Pentagon officials say military downsizing will mean a current assessment of its infrastructure will reflect a higher percentage of excess today.
Legislators provided The Hill relentless optimism that the defense authorization bill would be passed this year, but no easy pathways are apparent.
North Korean threats precede South Korea's purchase agreement for F-35s, the Herald Net reports from Bloomberg News. The stealth capabilities of Lockheed's fighter jet was what sealed the deal.
Domestically a few cracks in the procurement underpinnings of the JSF are starting to show, reports Aviation Week, quoting a Raytheon official questioning the fighter jet's cost and value. Other sources suggested Navy officials were pressured to abandon shifting procurement priorities back toward F/A 18s and deferred F-35 purchases.
Successful X-47B UCAS carrier-landing testing continues aboard the USS Theodore Roosevelt, reports Executive Biz. Seapower Magazine reports the details. There are only two X-47Bs, Liz Klimaz of The Blaze told their story well at the first carrier landing in July 2013. After launching the Navy's UCAS program, one will retire at the Patuxent River Naval Air Museum.
This multi-modal unmanned vehicle conceived and prototyped at Sandia National Laboratories can swim, fly, drive and hop, reports Wired, but it can't come home again.
Meanwhile China launches its first unmanned stealth combat aircraft, striking similar to the US's UCAS,  with a "sleek grey delta-wing aircraft apparently powered by a jet engine," reports Defence Talk.
UPI reports no news is bad news on budget talks and debunking earlier reports that progress was being made on replacing sequestration with budget cuts. The Council on Foreign Relations is pessimistic as well, opining that sequestration and all the political failings surrounding it will continue to delay military leaders from making realistic and strategically intelligent draw-down cuts.
Gov Exec reports, House Republicans are ready with a continuing resolution to avoid a government shutdown Jan. 15, 2014, the next date the government will run out of operating funds and run through April 15. The schedule is too tight to expect a budget resolution before then, lawmakers say. On Thanksgiving Break now, the legislators are not expected back in DC until Dec. 9, which is four days before the holiday recess from Dec. 13 to Jan. 7.
CNN posts full text of the Iran nuclear deal reached over the weekend. Intercepts posts the White House Fact Sheet on the deal. Israel Prime Minister Benjamin Netanya travels to Moscow and pledges friendship with Russian President Vladimir Putin reflecting Israel's view of  the deal and its belief that Moscow will be "the ultimate source of leverage" on nuclear negotiations with Iran, reports DefenseNews.
The Afghan president will not sign a security deal with the US, despite adamant support for the deal by his own council as well as the international community involved, reports Military.com.
Zacks reports on Boeing's big DoD awards worth $37 million, the bulk a $26.9 million modification for partial redesigning of its P-8A Poseidon, to run through Apr. 2017 with work done in Seattle, Wash.
DoD may want to consider a new revenue source to help its budget woes. The Army licensed its clothing style to Authentic Apparel Group, reports Fashionista.com. The menswear line will be available on Zappos, each piece approved by the Pentagon.