DoD Blocked LCS Cost Overruns from GAO Report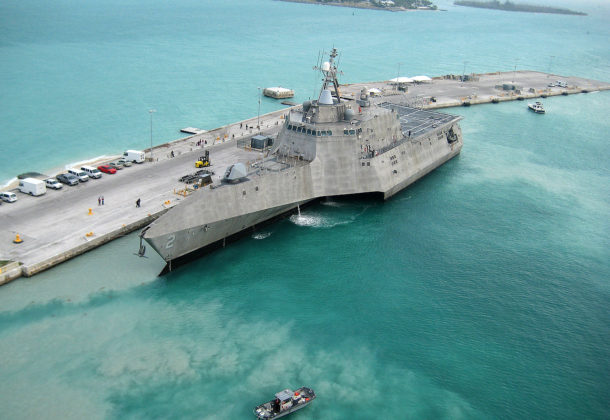 Morning Coffee is a robust blend of links to news around the Internet concerning the Naval Air Station Patuxent River

economic community. The opinions expressed here do not reflect opinions of the Leader's owners or staff.
A new congressional audit shows the Pentagon blocked publication of cost overruns on the first two vessels bought in the controversial Littoral Combat Ship contract, reports Bloomberg.
House may see a fiscal 2017 defense spending bill this week, reports The Hill, five months after the fiscal year began, but more than a month away from when the stopgap spending measure expires. The bill provides $516.1 billion in base budget funding and $61.8 billion for the war fund known as OCO for Overseas Contingency Operations. Not included is the Trump administration's anticipated supplemental budget, totally a DoD $583.7 billion budget for fiscal 2017.
Khizr Khan, the Muslim Gold Star father who made headlines this fall after a powerful speech at the Democratic National Convention, canceled a speaking engagement in Canada after receiving a warning that his travel privileges are being reviewed, reports Military Times.
Members of cybersecurity commission established under former President Barack Obama, and including Obama's national security adviser Tom Donilon, reiterate their call for White House leadership to spearhead efforts to foster more cooperation between the public and private sector, reports The Hill.
Victims are haunted by Marines' photo scandal, reports Marine Corps Times. "I don't want to leave my house," says one woman after her ex-boyfriend shared explicit pictures of her on the website Marines United. Military investigators are contemplating felony criminal charges and jail time for an unspecified number of USMC who participated in the secretive social media group.
The US military has a new role in Syria, Military Times reports. Small numbers of troops on the western outskirts of Manbij to "reassure and deter," are making themselves visible by flying American flags, seeking to keep reduce risks of new levels of violence in northern Syria.
The US decision to send equipment for a controversial missile defense system in South Korea could increase tensions with Beijing and Moscow,opponents of deploying such a system, reports Fox News.
Iran sent multiple fast-attack vessels into the Strait of Hormuz  within 600 yards of a US Navy ship, forcing a course change, Reuters reports.
Iraq welcomes its removal from a revised US travel ban, calling it a "positive message" as US and Iraqi forces battle the Islamic State group, reports Military Times.
The commander of US Air Forces in Europe and Africa confirms Russian aircraft conducted several "unsafe and unprofessional" encounters with both US and NATO aircraft last month, reports Defense News. There were three separate encounters with Russian Su-24 attack aircraft, and a fourth with an Ilyushin Il-38 maritime patrol aircraft.
Former owners of Ibis Tec LLC of Butler, PA, were blamed by the defense contracting firm for  an alleged $6 million scheme to overcharge DoD for Humvee window kits, reports Defense News. The brothers and the company's former CFO were charged last week with defrauding the US Army Tank-automotive and Armaments Command based in Warren, MI.
It's a busy week for the House and Senate Armed Services committees, including six hearings on force readiness issues as well as VA Secretary David Shulkin's first appearance in his new cabinet post. Military Times also lists the schedules of the week's committee sessions.
Housing and Urban Development Secretary Ben Carson doubles down on his description of slaves as immigrants, arguing that the label fits anyone who comes into a country from the outside — even "involuntary immigrants," The Hill reports.
Nominations are open for 2017 Service Members of the Year Award, Military Times reports.
Contracts:
Avian LLC, Lexington Park, Maryland, is being awarded an $11,402,443 cost-plus-fixed-fee contract to provide support for the Naval Air Warfare Center Aircraft Division's Integrated System Evaluation Experimentation and Test Department (AIR-5.1). Services provided will include flight test engineering, programmatic, administrative, design, execution, analysis, evaluation, and reporting of tests and experiments of aircraft, unmanned air systems, weapons and weapons systems. Work will be performed in Patuxent River, Maryland, and is expected to be completed in May 2018. Fiscal 2017 research, development, test and evaluation (Navy) funds in the amount of $100,000 will be obligated at time of award, none of which will expire at the end of the fiscal year. This contract was competitively procured via an electronic request for proposals as a service-disabled veteran owned small business set-aside, one offer was received. The Naval Air Warfare Center Aircraft Division, Patuxent River, Maryland, is the contracting activity (N00421-17-C-0049).
Booz Allen Hamilton, McLean, Virginia, has been awarded a $10,000,000 indefinite-delivery/indefinite-quantity contract for high power electromagnetics (HPEM) and cyber electronic warfare (EW) applications. Contractor will provide study opportunities where HPEM technologies can be used to complement or enhance capabilities of the cyber and EW communities. This includes conduct experiments that enhance the understanding of how HPEM technologies can be used for cyber and EW missions. Work will be performed at Kirtland Air Force Base, New Mexico, and is expected to be complete by June 5, 2020. This award is the result of a competitive acquisition with six offers received. Fiscal 2017 research, development, test and evaluation funds in the amount of $163,280 are being obligated at the time of award. Air Force Research Laboratory, Kirtland Air Force Base, New Mexico, is the contracting activity (FA9451-17-D-0081).