Doctors, Officials Work to Curb Opioid Epidemic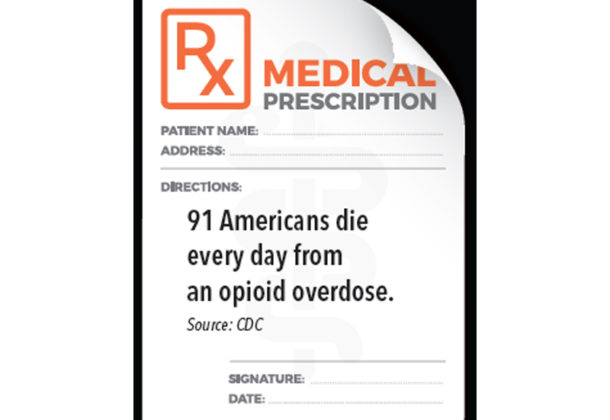 It's easy to forget that tragedy can strike in beautiful St. Mary's County. However, the country's opioid epidemic has spread everywhere, and MedStar St. Mary's Hospital is doing what it can to help.
The epidemic has become so serious that Gov. Larry Hogan declared a state of emergency in the state on March 1, 2017. The declaration is meant to direct attention to the heroin, opioid, and fentanyl crisis devastating communities throughout the state and the country.
"Our community has not gone untouched by this crisis," said Jeremy Tucker, DO, medical director of the Emergency Department at MedStar St. Mary's Hospital. "The sad truth is that we encounter the effects of this every day in our Emergency Department. The number of people we have coming to us seeking prescription pain medication and the number of overdoses we see continues to rise. The drugs available on the street are stronger, more addictive, and deadlier than ever before."
Heroin and the new drug on the market, fentanyl, are less expensive, more readily available alternatives to illegally obtained prescription opioids, and frequently become the drug of choice for many when access to prescription medications runs out. According to statistics from the Maryland Department of Health and Mental Hygiene, in some areas of Maryland close to one in every 10 people are addicted to heroin.
"We are not just talking about prescription opioids," said Meenakshi G. Brewster, MD, MPH, St. Mary's County health officer. "Certainly, when this all started, it was probably the most prominent feature, but now a major factor is heroin and fentanyl."
Fentanyl, according to Dr. Brewster, is 50 to 100 times stronger than morphine and much more potent than heroin and other prescription opioids. "Sadly, people buying and selling drugs on the street may not be aware that fentanyl is cut into the medication or the drug they are selling or buying," said Dr. Brewster. "Even non-opioids, like Xanax, we are now sometimes finding have opioids like fentanyl cut into them and people are overdosing because it is incredibly powerful, they haven't built up a tolerance and their bodies are overwhelmed."
Working to Curb Over-prescribing
One way in which Maryland hopes to fight the epidemic is with the Maryland Prescription Drug Monitoring Program (PDMP). Officials are working to make it the first line of defense and help reduce over-prescribing of prescription pain drugs as well as doctor shopping for a number of narcotic prescriptions.
The PDMP is designed to support providers and patients in the safe and effective use of prescription medications. Pharmacists and practitioners who are authorized to prescribe drugs that are classified as controlled dangerous substances had to be registered with the PDMP by July 2017, and by July 2018 they will be required to query and review their patient's PDMP data before prescribing an opioid or benodiazephine, and repeat that query every 90 days as long as they continue to prescribe opioids.
"The new drug monitoring program will be a tremendous benefit to help reduce the risk of over-prescribing opioids," said Dr. Tucker. "The PDMP will allow us to make more informed decisions about whether or not to prescribe narcotics to patients to control their pain. Earlier identification of a patient who might be at risk of abusing opioids gives us the opportunity to help that individual find the treatment they need which ultimately could save their life."
More information on lifesaving resources can be found on the MedStar St. Mary's website.
For more information and one-click access to a full list of resources available at MedStar St. Mary's Hospital, visit its Leader member page.