DefSec Wants Review Comparing F-35 & Hornet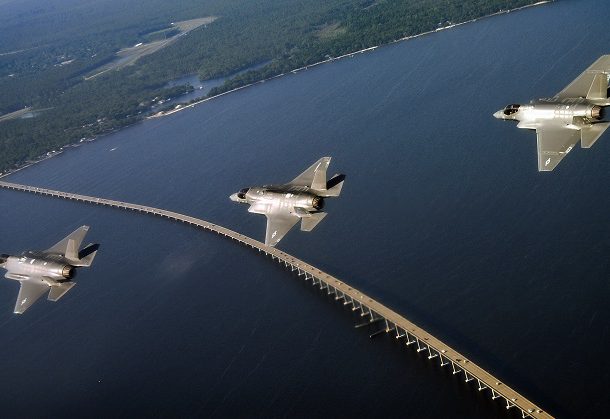 Morning Coffee is a robust blend of links to news around the Internet concerning the Naval Air Station Patuxent River

economic community. The opinions expressed here do not reflect opinions of the Leader's owners or staff.
New DefSec James Mattis is calling for a review that compares the F-35C and F/A-18E/F operational capabilities and assesses the extent that F/A-18E/F improvements (an advanced Super Hornet) can be made in order to provide "competitive, cost effective, fighter aircraft alternative," Business Insider reports. This potential faceoff between the two jets comes after President Donald Trump said shortly before his inauguration, the F-35's costs were "out of control."
Exercise Solid Curtain-Citadel Shield 2017 to be held Jan. 30 through Feb. 10 on naval installations within the Navy's Mid-Atlantic Region the South Potomac Pilot reports. The installations include NAS Pax River, Joint Base Anacostia-Bolling, Naval Support Activity Washington, Naval Support Activity Annapolis, Naval Support Activity Bethesda, and Naval Support Activity South Potomac (NSF Indian Head and NSF Dahlgren). The exercise is designed to enhance the readiness of Navy security forces.
There's a shortage of pilots to fly military and commercial aircraft, Stars and Stripes reports, and officials from the US Air Force and some major airlines met last week to discuss the problem. "The reality is that we as a nation are not producing the amount of pilots we need to source the commercial requirement, the business requirement, the private requirement and the military requirement," Gen. David Goldfein, AF chief of staff said.
The federal government hiring freeze will apply to DoD civilian positions but will not impact uniformed personnel, Defense News reports. The freeze included an exception for national security positions. Would-be Pentagon employees and Veterans Affairs staffers with job offers in hand might still be left unemployed by the freeze, Military Times reports. At issue is how the freeze will be implemented, and exactly when White House officials define someone's switch from a job candidate to incoming employee.
Democratic lawmakers are asking the Trump administration to exempt the VA from the freeze, saying it will significantly harm health care and benefits delivery for veterans, Military Times reports.
President Trump and Russian President Vladimir Putin spoke for an hour Saturday and vowed to join forces to fight terrorism in Syria and elsewhere, The Washington Post reports, signaling a potential shift in relations between the two countries. President Trump wants the Pentagon to come up with a strategy to defeat the Islamic State.
Trump met with Britain's prime minister on Friday. Theresa May praised Trump's dedication to fighting the ISIS and Islamist extremism, but stressed the need not to tarnish "the peaceful religion of Islam and the hundreds of millions of its adherents," Syracuse.com reports.
Trump also spoke to Mexican President Enrique Peña Nieto by phone late last week. Despite tension over the border wall Trump wants to build, the men agreed to negotiate on several issues, such as trade and immigration, The New York Times reports.
Israeli prime minister Benjamins Netanyahu says Trump understands the "danger" of the Iran nuclear deal, ding that Israel will take all measures necessary to stop Tehran from getting atomic weapons, reports Military Times.
The Navy plans to stay with an advanced fighter jet landing system for its new aircraft carriers, despite some initial problems, Navy Times reports. Officials say the glitches in the technology are being worked out and that the benefits of the new landing gear include more reliability and less maintenance.
The Navy's Avionics Component Improvement Program is accepting proposals from Naval Air Systems Command program offices to award more than $10 million in funding toward fiscal 2018 projects, the Tester newspaper reports. AvCIP provides funds for projects that address current avionics system problems, including decreased reliability and readiness degraders, impending obsolescence issues that threaten to stop sustainability, and high sustainment cost drivers.
Contracts:
Northrop Grumman Systems Corp. – Marine Systems, Sunnyvale, California, is being awarded $22,716,266 for modification P00007 to a previously awarded cost-plus-incentive-fee, cost-plus-fixed-fee contract (N00030-16-C-0015) to provide support for technical engineering services, design and development engineering, component and full scale test and evaluation engineering, and tactical underwater launcher hardware production to support the development and production of the Common Missile Compartment. This contract contains options, which if exercised, will bring the maximum value of the contract to $198,048,723. Work will be performed in Sunnyvale, California (55 percent); Ridgecrest, California (20 percent); Cape Canaveral, Florida (10 percent); Bangor, Washington (5 percent); Kings Bay, Georgia (5 percent); Barrow-In-Furness, England (2 percent); New London, Connecticut (1 percent); Quonset Point, Rhode Island (1 percent); and Arlington, Virginia (1 percent), with an expected completion date of September 2020. Fiscal 2017 research, development, test and evaluation funds in the amount of $22,716,266 are being obligated on this award; none of which expire at the end of the current fiscal year.  Strategic Systems Programs, Washington, District of Columbia, is the contracting activity.
Sallyport Global Holdings Inc., Alexandria, Virginia, has been awarded a $200,000,000 modification (P00019) on previously awarded contract FA8615-14-C-6020 for base life support, base operations support, and security for Balad Air Base, Iraq. Work will be performed at Balad Air Base, Iraq, and is expected to be complete by July 31, 2017. This contract is 100 percent foreign military sales to Iraq. Air Force Life Cycle Management Center, Wright-Patterson Air Force Base, Ohio, is the contracting activity.
INDTAI Inc., Vienna, Virginia, was awarded a $9,157,863 firm-fixed-price contract for education support services required by Army continuing educations system in Installation Management Command education offices, in and outside the continental US. Bids were solicited via the Internet with seven received. Work will be performed at Fort Sam Houston, Texas, with an estimated completion date of Jan. 27, 2020. Fiscal 2017 operations and maintenance (Army) funds in the amount of $6,427,005 were obligated at the time of the award. Army Contracting Command, Fort Sam Houston, Texas, is the contracting activity (W9124J-17-C-0018).
CACI Enterprise Solutions Inc., was awarded a $7,832,017 modification (P00007) to contract W81XWH-14-F-0205 for pre-planned product improvement, life cycle management, and business process and technical integration support and reengineering services for the theater enterprise-wide logistics system. The contractor will provide software maintenance services to support joint medical logistics functional development center, defense health services systems, Defense Health Agency in the configuration, technical sustainment and continued enhancement as part of the Defense Medical Logistics – Enterprise Solution. Work will be performed in Falls Church, Virginia, with an estimated completion date of Jan. 28, 2019. Fiscal 2017 operations and maintenance (Army) funds in the amount of $7,832,017 were obligated at the time of the award. Army Medical Research Acquisition Activity, Frederick, Maryland, is the contracting activity.
Leidos Inc., Reston, Virginia, is awarded a contract (HDTRA1-17-C-0019) with a ceiling value of $35,921,608 ceiling time, materials contract, and does not include the value of the unexercised options. This contract is for scientific and technical services in support of various projects under the Cooperative Biological Engagement program. Work will be performed at various locations throughout the world. The anticipated completion date is Jan. 30, 2018 (base period); this contract includes four 12-month options that would end on Jan. 30, 2022 if all options are exercised. The contract was a competitive acquisition; the government received 11 offers. The Defense Threat Reduction Agency, CTR Contracting Office/DTRA/J4COC, Fort Belvoir, Virginia, is the contracting activity.