Defense Stocks Tumble After Trump F-35 Tweet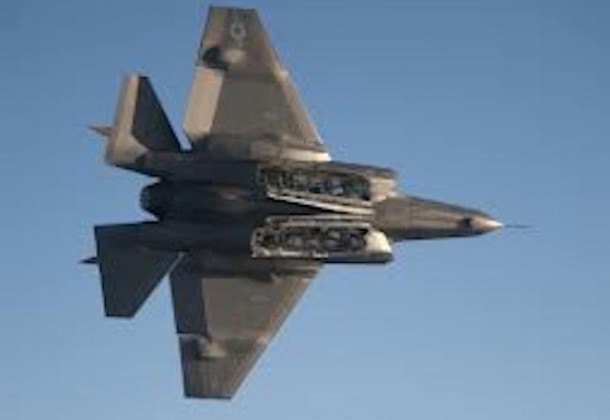 Morning Coffee is a robust blend of links to news around the Internet concerning the Naval Air Station Patuxent River

economic community. The opinions expressed here do not reflect opinions of the Leader's owners or staff.
Although President-elect Donald Trump's statement that the F-35 cost too much sent Lockheed Martin stocks tumbling, Washington Business Journal says Lockheed could come out ahead if Trump reaches the same conclusion as others: to bring the price down buy them. After Trump tweeted the F-35 costs were "out of control," Reuters reports, Lockheed shares fell 2.5 percent after being down 5.4 percent earlier. Shares of General Dynamics, Northrop Grumman, BAE, and Raytheon also fell, while United Technologies and Boeing shares were slightly higher.
Video of Defense News' Israel Bureau Chief Barbara Opall-Rome interview with Jack Crisler, Lockheed Martin's vice president for F-35 business development and strategy, as the first two F-35 JSFs are delivered to Israel.
Senate Armed Services Committee member Sen. Jeanne Shaheen (D-NH) calls on the Pentagon to analyze a January 2015 report that identified $125 billion in waste "to yield actionable proposals that the Senate Armed Services Committee may consider next year," to increase efficiency and save money, reports The Hill.
Aviation Week suggests Trump's threats of potential consequences for companies leaving the US could speed adoption of automation, robotics, artificial intelligence, and other digitalization of industries; if exporting labor no longer results in savings, investment in technology could move toward replacing carbon-based workers with silicon ones.
An unusual confirmation procedure pushed by Republican lawmakers could allow confirmation of Gen. James Mattis as DefSec within hours of Trump taking office, reports Military Times.
Other Trump nominees could face more difficult confirmation hearings: Trump's choice to lead the Energy Department, Texas Gov. Rick Perry, whose national campaign platforms has included a commitment to eliminating that department, reports Politico. Trump's selection of Exxon Mobil CEO Rex Tillerson to lead the State Department is also controversial concerning the nominee's close ties with Russia, reports Military.com. That appointment also likely faces a confirmation fight with Congress.
Russian interference is drawing bipartisan concerns. Majority Leader Mitch McConnell says a Senate intelligence inquiry will be conducted into the Kremlin's activity during the election. Two key Senate Republicans — John McCain of Arizona and Lindsey Graham of South Carolina — joined with two Democrats in seeking a bipartisan investigation.
Russia so dominates the news this week that The Washington Post reports on the number of Trump nominees influenced by reading Russian-born Ayn Rand, whose novels celebrate laissez faire capitalism without government interference.
Military.com details the plans of the 38th surgeon general of the Navy to reshape medical care for sailors, Marines, military retirees, and their families by increasing the convenience of health services and using technology to connect troops with the best physicians.
Contracts:
Jacobs Government Services Co., Arlington, Virginia, is being awarded a maximum amount $75,000,000 firm-fixed-price, indefinite-quantity, architect-engineering contract for engineering and design services for industrial research at various administrative facilities within the Naval Facilities Engineering Command (NAVFAC) Washington area of responsibility (AOR). No task orders are being issued at this time. Work will be performed within the NAVFAC Washington AOR, including but not limited to, Maryland (45 percent); Washington, District of Columbia (30 percent); and Virginia (20 percent). Work also may be performed in the remainder of the US (5 percent). The term of the contract is not to exceed 60 months with an expected completion date of December 2021. Fiscal 2017 operations and maintenance (Navy) contract funds in the amount of $25,000 are obligated on this award and will expire at the end of the current fiscal year. Future task orders will be primarily funded by operations and maintenance (Navy). This contract was competitively procured via the Navy Electronic Commerce Online website with five proposals received. The Naval Facilities Engineering Command, Washington, Washington, District of Columbia, is the contracting activity (N40080-17-D-0018).
EMCOR Government Services Inc., Arlington, Virginia, is being awarded a $10,470,082 modification under a previously awarded indefinite-delivery/indefinite-quantity contract (N40080-16-D-0301) to exercise option year one for facility support services at Naval Support Activity Bethesda. The work to be performed provides for all management supervision, labor hours, training, equipment and supplies necessary to perform base operating services. After award of this option, the total cumulative contract value will be $19,440,184. Work will be performed in Bethesda, Maryland, and is expected to be completed December 2017. No funds will be obligated at time of award. Fiscal 2017 operations and maintenance, (Navy); Navy working capital funds; and fiscal 2017 Defense health program contract funds in the amount of $9,206,232 for recurring work will be obligated on individual task orders issued during the option period. The Naval Facilities Engineering Command, Washington, Washington, District of Columbia, is the contracting activity.
L1 Industries Inc., Frederick, Maryland, has been awarded a maximum $9,500,000 fixed-price with economic-price-adjustment, indefinite-delivery/indefinite-quantity contract for hospital equipment and accessories for the electronic catalog. This is a five-year contract with no option periods. This was a competitive acquisition awarded against a standing solicitation with 125 responses received. Sixty-six contracts have been awarded to date. Location of performance is Maryland, with a Dec. 12, 2021, performance completion date. Type of appropriation is fiscal 2017 through fiscal 2022 defense working capital funds. The contracting activity is the Defense Logistics Agency Troop Support, Philadelphia, Pennsylvania (SPE2DH-17-D-0007).