Defense Bill Includes Submarine Launched Nuclear Weapon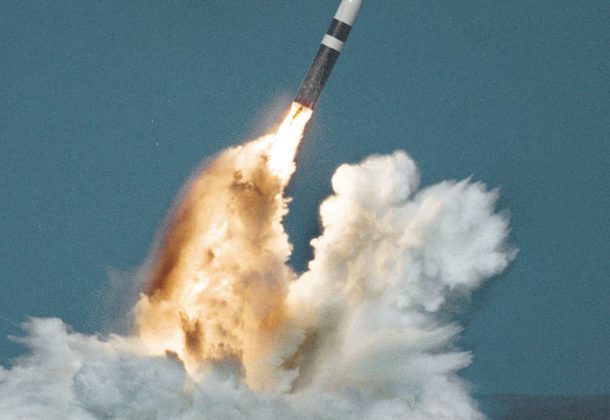 Morning Coffee is a robust blend of links to news around the internet concerning the Naval Air Station Patuxent River

economic community. The opinions expressed here do not reflect opinions of the Leader's owners or staff.
The Senate and House agreed on a $716 billion defense authorization to include $65 million to develop a controversial new submarine launched nuclear weapon aimed at deterring Russia, reports Defense News. The requirement for the weapon — likely to be a submarine launched Trident II D5 with a W76-2 warhead — is part of the administration's Nuclear Posture Review.
Gen. Paul Nakasone, the head of Cyber Command, calls for "continues engagement" and "defending forward" to protect the nation's data and networks, Fifth Domain reports on the more aggressive vision.
Republican congressional leaders distance themselves from Vladimir Putin's invite to Washington from President Donald Trump, reports PBS. House Speaker Paul Ryan says Putin will not be invited to address Congress because "that is something we reserve for allies."
Turkey vows to keep buying Iranian oil, reports the Washington Examiner, suggesting another clash with the US, which is in the final stages of an arms deal with Russia that could trigger American sanctions.
The Trump administration plans to use a Great Depression-era program to give $12 billion to US farmers caught in a growing trade war with China, the European Union and others, reports Reuters. The move meant to cushion the blow for a politically important constituency was met with broad criticism by many farmers and farm-belt lawmakers, including Republicans.
The Court of Special Appeals has found Lockheed owes Montgomery County $1.5 million in hotel taxes, reports The Daily Record, saying the county can deny the company's request for a $1.47 million hotel rental tax refund.
Defense News reports that the barrage of rockets and missiles that put an end to the landing ship tank Racine during the Rim of the Pacific exercise, was the surface fleet's brand-new anti-ship missile, but not deployed by the Navy. The Army shot the Naval Strike Missile from the back of a truck using its Palletized Load System in Hawaii.
Okinawa plans to build shelters to protect school children from objects falling from US planes  reports Marine Corps Times. The strained relationship between Okinawa's local populace and the US military occupants is well-documented with objects falling from aircraft from Marine Corps Air Station Futenma.
Boeing wins a contract for automatic backup oxygen systems in the T-45 training aircraft, which had problems with its oxygen system last year. UPI reports that the order by the Department of Defense, provides for engineering and other support services for the development and production of automatic backup oxygen systems for the aircraft.
The New York Times Magazine reports scientists could learn more about how allergies work as they unravel the mystery of the tick-borne meat allergy suddenly causing a strange reaction in some people who eat meat.
Contracts:
Lockheed Martin Rotary and Mission Systems, Manassas, Virginia, is awarded a $15,134,336 cost-plus-incentive-fee contract modification to previously awarded contract N00024-17-C-6259 to exercise options for the procurement of Navy equipment and engineering services. Work will be performed in Manassas, Virginia (95 percent); and Clearwater, Florida (5 percent), and is expected to be completed by July 2021. Fiscal 2018 other procurement (Navy) and fiscal 2018 research, development, test and evaluation (Navy) funding in the amount of $14,725,945 will be obligated at time of award and will not expire at the end of the current fiscal year. The Naval Sea Systems Command, Washington, District of Columbia, is the contracting activity.
General Dynamics Missions Systems Inc., Scottsdale, Arizona, is awarded a $15,108,782 firm-fixed-price modification to previously awarded contract M67854-17-C-0261 to exercise an option for the manufacturing, assembly and testing of nine Full Deployment Units of the Common Aviation Command and Control System, Air Command and Control Subsystem in support of Program Executive Officer Land Systems, Quantico, Virginia. Work will be performed in Scottsdale, Arizona (94 percent); Fulton, Maryland (4 percent); Huntsville, Alabama (1 percent); and San Diego, California (1 percent), and is expected to be completed by July 2020. Fiscal 2018 procurement (Marine Corps) funds in the amount of $15,108,782 will be obligated at the time of award and funds will not expire at the end of the current fiscal year. This contract was competitively procured via the Federal Business Opportunities website, with five offers received. The Marine Corps System Command, Quantico, Virginia, is the contracting activity.
Chenega Applied Solutions, Lorton, Virginia, has been awarded a $10,800,000 firm-fixed-price task order for Royal Saudi Air Force outside the continental US English language training. This contract provides an English language training program. Work will be performed at the Technical Studies Institute facility at King Abdul Aziz Air Base, Dhahran, Saudi Arabia, and is expected to be completed by Aug. 5, 2023. This contract involves foreign military sales (FMS) to the Kingdom of Saudi Arabia. This award is the result of a competitive acquisition under general services administration with one request for quote posted and four offers received. FMS funds in the amount $10,800,000 are being obligated at the time of award. This award is 100 percent unclassified FMS to Saudi Arabia. The 338th Specialized Contracting Squadron, Joint Base San Antonio Randolph, Texas, is the contracting activity (FA3002-18-F-0121).