Decompression Night at PAX Museum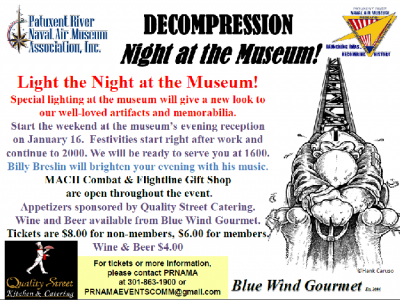 Posted by
Patuxent River Naval Air Museum
Community Builder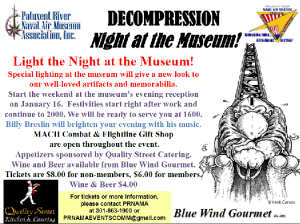 Get the new year off to the right start!  Join your friends for an evening reception at Patuxent River Naval Air Museum on January 16. Our first reception was fantastic fun and this one will be even better – we just need you!
The museum and exhibits will have special lighting provided by Pete Butt and Communications Facilities Co.  We'll have music by Billy Breslin.
Stop by on your way home from work – bring your office mates along and finish the day with a bang.  We'll be ready to serve you at 4 pm.
Tickets for the event are only $6 for Association members and $8 for non-members.  Your ticket will get you:
* music provided by Billy Breslin
* appetizers from Quality Street Catering
* non-alcoholic beverages
* a 20% discount on the purchase of a single item from the newly renovated Flightline Gift Shop, discount good for 30 days from the date of the event
* an extra 15-minutes of flight time in the Mach Combat flight simulators with the purchase of a 30-minute or 60-minute flight session (that night or in the future), discount good for 30 days from the date of the event.
Wine and beer will be available for purchase for $4 per glass of wine or bottle of beer. We will have a great selection of beverages from Blue Wind Gourmet.
Tickets will be available from PRNAMA Board of Directors, Event Committee Members, at the PRNAM Flightline Gift Shop, as well as at the door on the night of the event.   You can also email [email protected] for information.
Come out with your friends and co-workers, support the museum, and help to create the new destination spot for kicking back after work!