A Decade at Ausley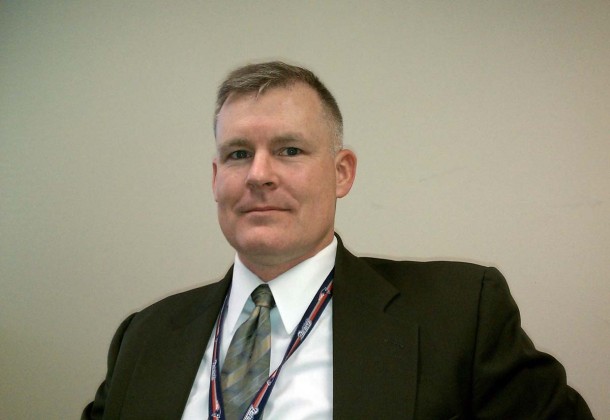 Ausley Associates
Pax Leader
James Black has seen a lot of changes at Ausley in his 12 years with the firm, but as the company approaches its 15th anniversary this year, he said recently that he might just stick around for another dozen.
Black, Ausley's team lead for PMA-266's VTUAV Deployments Integrated Product Team, said Ausley's close camaraderie, competent management and concern for its employees are what attracted him to the company and have kept him there for so long.
Black came to Ausley in 2000, when the staff still numbered in the single digits. "I was employee number eight," Black recalled.
Black was hired right out of the Navy, where he worked as a navigation officer in EA-6B Prowlers and F-14 Tomcats and served in conflicts in Somalia, Iraq and Kosovo.  He was hired, on recommendation from a friend, to help with the project that would eventually transform the F/A-18 Hornet platform into the EA-18G Growler electronic attack aircraft.
"We were pretty much F-18-centric," Black said of Ausley in the early days. The firm primarily focused on fleet support and program management. That focus has shifted greatly in the last decade as Ausley has branched out into more technical areas, including unmanned aircraft development.
In the past 15 years Ausley has built a team of experts dedicated to managing programs and fulfilling customer needs related to both fighter aircraft and unmanned aircraft systems. With headquarters in Lexington Park, Maryland, Ausley has added employee locations in Philadelphia, Pennsylvania; Dahlgren, Virginia; Hampton Roads, Virginia; Washington, D.C.; and Jacksonville, Florida.
Ausley's staff has grown as well, now topping 100 employees. But Black said that even though he no longer knows every single person by name, the company's teams try to keep the close-knit feel.
"They have people in the right leadership positions here," Black said.  He added that the company keeps its focus on their ultimate customerthe warfighter in the field. "You're supporting the guys doing the job, in country. That's a good, solid feeling."
For Black, Ausley's closeness and clarity of purpose is more than an academic concept. He recalled being in a serious hunting accident in 2001 in which he injured his back. He said he will never forget the kindness of Ausley's president.
"Paul Ausley sat in the waiting room with my wife while they wheeled me around and determined if I would walk again," Black said.
Black said the company also supported his family during his recent year-long deployment to Iraq as a reservist, checking up on his wife and four kids.
When Black returned to Ausley in April 2010, he found a company that had doubled in both employees and office size. "A lot of people who were new thought I was a new hire," Black said, chuckling.
Given his experience over the last dozen years, Black said he doesn't see himself moving on anytime soon. "I'm a little bit loyal to Ausley," he said, smiling.