Student, Professional, Rider, Champion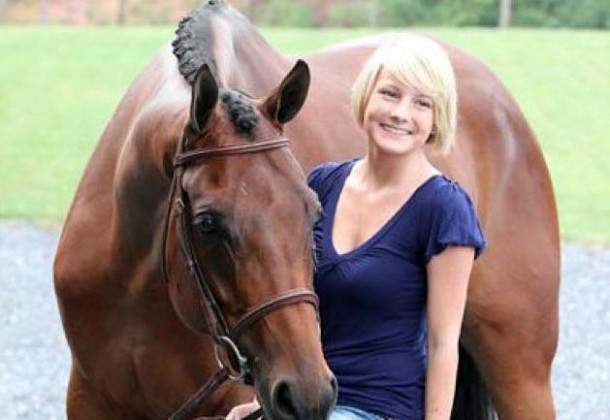 Posted by Blazer Enterprises
Leading Edge
In many ways, Kassie Blazer, 20, of Drayden is like any other Southern Maryland student. She attends classes at College of Southern Maryland and works full time at Blazer Enterprises as an administrative assistant.
However, on most weekends, Blazer has another role – defending the title of her champion quarter horse.
"It's kind of like a national level of competition," Blazer said, explaining that she spends two to three weekends a month taking her horse, Slick, to compete in competitions ranging from New Jersey to Florida to Ohio.
Blazer, Slick and Slick's trainer, Beth Gouthro, compete in events sanctioned by the American Quarter Horse Association, which tracks their competition placement and assigns points to their team.
Blazer starting competing in the quarter horse circuit three years ago. She bought Slick two years ago. Last year, during Slick's first full year of competition, Gouthro rode him to earn High Point Junior Hunter Under Saddle Champion and placed tenth at the World Show. Blazer was named Limited Hunter Under Saddle Small Stakes Champion based on the number of points Slick earned that year. According to Blazer, Slick showed 52 times and won 26 times, only missing top five placement in four shows.
"He's a pretty special being," Blazer said of Slick. She's not kidding. Standing at 18.1 hands (6 feet, 3 inches) at the shoulder, Slick towers over Blazer (5 feet, 1 inch) and most other horses.
"He thinks he is a puppy dog, though," Blazer said.
Blazer bought the 6-year-old gelding when he only had 20 show points to his name. He now has 150. Blazer currently boards him at a farm in Staunton, Va., but she has plans for his retirement. She said, "I can tell you, Slick will live in our back yard forever."
Blazer found her love of horses at the age of 5, when she learned to ride with her brother at Greenwell State Park. That love has sustained, even as the hobby's cost has escalated.
"Buying the horse is the cheap part," Blazer said, noting that Slick is trained five days a week. "My horse gets better care than I do."
Blazer said she tries to keep perspective when out on the competition circuit.
"People are very passionate about their sport," she said. "And this is an expensive hobby. I will not lie. … People do get jealous. The competition level is high."
But, for the most part, the drama is minimal, Blazer said. "Everyone is sociable. We have a blast at the horse shows."
Blazer will be extending her range of showing this year, heading to competitions in New York and Oklahoma, but she is most excited about attending the biggest shows.
She said, "My big thing is going to the World Show and doing the Congress, because that's where the best competition is going to be."