Darrah Gets Tailhook Nod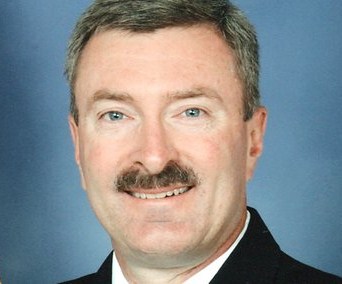 For the first time in its history, the Tailhook Association selected a warfighter serving in the acquisition community as the Tailhooker of the Year at the 2011 Tailhook Annual Reunion and Symposium in Reno, Nevada, last week.
"U.S. Navy Capt. Mark W. Darrah earned the award for his tremendous contributions made this year to carrier and other sea-based aviation," said Navy Capt. Sterling Gilliam, president of the Tailhook Association.
Darrah currently serves as the F-35 weapon system program manager and is the former program manager for the F/A-18 Hornet, Super Hornet and EA-18G Growler program office (PMA-265) at Naval Air Systems Command, Patuxent River, Md.
"He fostered a culture of success and led the critical enhancements required to keep the warfighter's tip of the spear sharp," said Gilliam. "He provided Marines, Sailors and aviators with the tools needed to accomplish the mission."
The award recognized Darrah's efforts to deliver the Navy's newest electronic attack platform, the EA-18G Growler, to the fleet and his leadership in averting shortfalls in Navy and Marine Corps fighter production.
The Growler achieved operational success this year when the VAQ-132 Scorpions flew the first combat missions in Operation Odyssey Dawn, enforcing the United Nations no-fly zone over Libya.
"My family and I were humbled and overwhelmed by the recognition this award brings," said Darrah. "To have the Tailhook Association, which is made up predominantly of our fleet customers past and present, recognize a NAVAIR major program manager says everything about what our great team is doing and what our fleet customer thinks. We have so much more to do, but this recognition tells me we are on the right path."
Sitting at the crossroads of fleet-driven requirements and data-driven acquisition, Darrah focused on delivering the most potent power projection instruments to the Navy and Marine Corps and then quickly refining them to address evolving tactical situations in a most impressive way. "Carrier aviation is measurably stronger today and far more capable of prevailing in future conflicts as a direct result of Captain Darrah's leadership," said Gilliam.
The Tailhook Association is a non-profit organization, supporting the interests of sea-based aviation, with an emphasis on aircraft carriers. Tailhook refers to the hook that pilots use to catch one of the arresting wires suspended across the flight deck in order to stop the landing aircraft quickly on an aircraft carrier.
Source: PEO(JSF) Public Affairs