Cyclists Can Register for Benefit Ride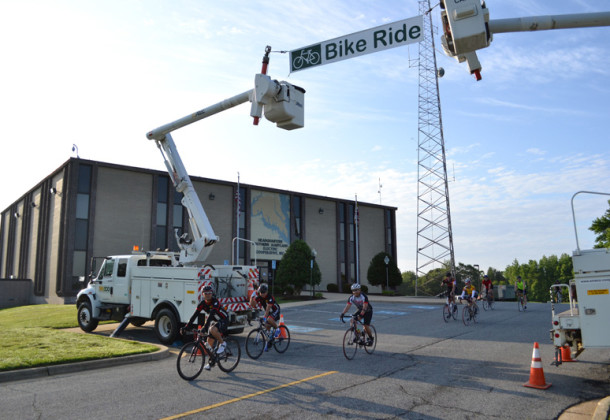 Cyclists can now register for the Southern Maryland Electric Cooperative's sixth annual benefit ride.
The SMECO 75 Bike Ride, beginning at the cooperative's headquarters building in Hughesville, will be held June 3, 2017. The ride will feature a 75-mile route for experienced cyclists and two shorter routes, as well. Four rest stops will be stocked with appropriate fuel for cyclists, and lunch will be served at the finish. Participating cyclists also will receive event-themed items.
Proceeds from the benefit ride will be donated to four different organizations that focus on the environment: the American Chestnut Land Trust in Calvert County, the Port Tobacco River Conservancy in Charles County, the Alice Ferguson Foundation in Prince George's County, and the St. Mary's River Watershed Association in St. Mary's County.
As part of SMECO's commitment to the community it serves, each year the cooperative raises money for different local charities. The two main fund-raisers are the SMECO 75 Bike Ride in June and the Charity Golf Tournament in October. Both events are supported by a group of volunteers, the SMECO executive team, and vendors
In 2016, SMECO donated $53,476 to Melwood's Operation: Tohidu. The money was raised by the SMECO 75 Bike Ride and SMECO's annual charity golf event. Operation: Tohidu is designed to help active and veteran service members overcome obstacles to their recovery.
The bike ride is a non-refundable, rain-or-shine event.  The ride takes place on a scenic 75-mile course. Travel through the byways of Southern Maryland to Colton's Point on the shores of the Potomac River. There are a couple of hills and a few curves as you enjoy the scenery with your neighbors. Take the 29-, 47-, or 75-mile ride through Southern Maryland along portions of the scenic Three Notch Trail. Cross the finish line and come enjoy a sub sandwich, cold beverage, and a delicious sweet treat as you listen to summertime music.
Mark your calendars. The SMECO 75 Bike Ride is a great opportunity to enjoy the local scenery with your fellow customer-members. Registration is now open on active.com. For more information, click here.
Businesses who are interested in showing their support through sponsorships can contact Natalie Cotton for more information at 301-274-4377.
To learn more about SMECO, visit its Leader member page.