Is Cybersecurity the National Guard's Job?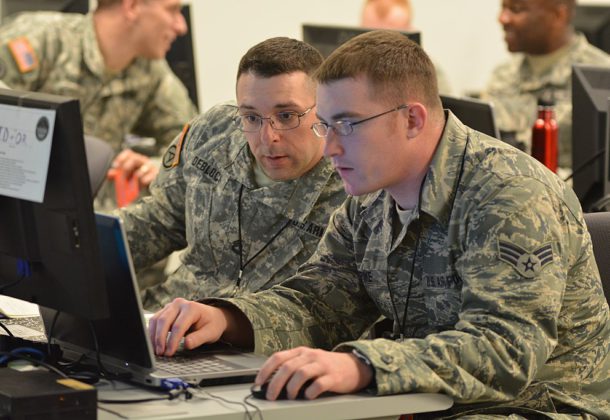 Morning Coffee is a robust blend of links to news around the internet concerning the Naval Air Station Patuxent River

economic community. The opinions expressed here do not reflect opinions of the Leader's owners or staff.
Is DoD hamstrung when it comes to national cybersecurity? Should the National Guard be called in to protect the states from cyber midterm election threats? FCW reports on ideas floated this week at a Senate Armed Services cybersecurity subcommittee hearing.
Intelligence chiefs warn Congress Russia will sow fresh discord in the US midterm elections, reports The New York Times. "We expect Russia to continue using propaganda, social media, false-flag personas, sympathetic spokespeople, and other means of influence to try to exacerbate social and political fissures in the United States," said Dan Coats, the director of national intelligence.
Why didn't Israel deploy its F-35I after Syria downed its F-16I? asks Defense News. The Israeli Air Force declared initial operational capability of the nine F-35s now in its possession late last year, yet none were part of the eight aircraft sent to destroy an Iranian command center in central Syria.
DefSec Jim Mattis deflects comment on how nations should "take responsibilities" for their citizens captured as ISIS terrorists, reports Military Times, but says, "Doing nothing is not an option."
As federal prisons run low on guards, nurses and cooks are filling in, reports USA Today. Hundreds of secretaries, teachers, counselors, cooks, and medical staffers were tapped last year to fill guard posts across the Bureau of Prisons because of acute officer shortages and overtime limits, according to prison records reviewed by USA Today and staff interviews.
Gun maker Remington files for bankruptcy, reports American Military News. Founded in 1816 by Eliphalet Remington II with more than 3,500 current employees, it is reported to be nearly $1 billion in debt.
A tsunami of store closings is about to hit the US, reports Business Insider, with more than 12,000 stores expected to close in 2018 — up from roughly 9,000 in 2017, potentially taking hundreds of shopping malls to the brink of death.
The Navy-Marine fighter fleet is in a "death spiral," wearing out from overuse, under-maintained, and not replaced, says Breaking Defense, which reports 53 percent of aircraft are unfit to fly which means 62 percent of strike fighters and 74 percent of Marine F-18 Hornets.
General Atomics Aeronautical Systems Inc. is to team with Boeing on its MQ-25 Stingray offering to the US Navy, reports janes.com.
Fallout from Niger ambush could scale back Africa missions, strip commanders of autonomy, reports The New York Times. A probe into the ambush that killed four US soldiers is expected to recommend reducing ground missions in West Africa and stripping field commanders of the autonomy that allows them to send service members on risky missions.
The Dragon Shield airborne surveillance system built for the Finnish Defense Forces achieves final operational capability, reports SpaceDaily.com.
The Trump administration tells South Korea it is open to preliminary talks with North Korea, The New York Times reports. The idea previously rejected by the administration decided on a course correction with South Korean President Moon Jae-in determined to engage with the North.
Contracts:
The Boeing Co., St. Louis, Missouri, is being awarded $219,600,000 for cost-plus-fixed-fee delivery order N0001918F1597 against a previously issued basic ordering agreement (N00019-16-G-0001). This order procures non-recurring efforts associated with Engineering Change Proposal 6503 for the design, development, test and integration of the conformal fuel tank in support of the F/A-18. Work will be performed in El Segundo, California (41 percent); St. Louis, Missouri (40 percent); Patuxent River, Maryland (17 percent); and Philadelphia, Pennsylvania (2 percent), and is expected to be completed in July 2022. Fiscal 2018 research, development, test and evaluation (Navy) funds in the amount of $18,986,916 are being obligated on this award, none of which will expire at the end of the current fiscal year. The Naval Air Systems Command, Patuxent River, Maryland, is the contracting activity.
Orbital ATK, Chandler, Arizona, is being awarded a $79,444,734 cost-plus-fixed-fee, indefinite-delivery/indefinite-quantity contract for operation and maintenance services in support of the Naval Air Warfare Center Weapons Division Ground Launch Drone Missile (GQM-163A) target test and evaluation to include developmental testing.  This contract also supports foreign military sales testing activities. Contract support will be performed in Point Mugu, California (25 percent); San Nicholas Island, California (25 percent); Pacific Missile Range Facility, Hawaii (25 percent); and Wallops Island, Virginia (25 percent), and is expected to be completed in February 2023. Fiscal 2018 research, development, test and evaluation (Navy) funds in the amount of $300,000 will be obligated at time of award; none of which will expire at the end of the current fiscal year. This award was not competitively procured and was solicited with a request for proposal; one offer was received. The Naval Air Warfare Center Weapons Division China Lake, California, is the contracting activity (N68936-18-D-0015).