CSM's Robotics Team Tops 'Big Ten' at VEX World Championship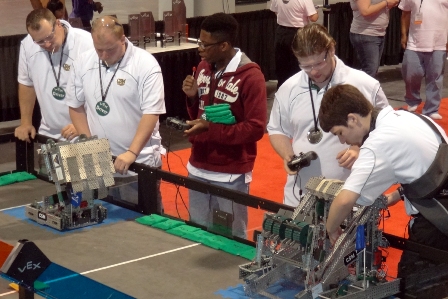 Posted by
College of Southern Maryland
Pax III
 The College of Southern Maryland collegiate robotics team, The Talons, returned from the VEX World Championship in Anaheim, Calif., ranked in the top third and with resolve to 'up' their game and hone their strategy for the 2014 competition.
"We were just five bags away from reaching the quarterfinals," said CSM coach Professor Bernice Brezina about the robotics game scored with bean bags. The Talons' final record 7-3-0 finished in an eight-way tie for 10th place, ranking 16th out of 52 colleges and universities from 24 countries.
"They beat all of the Big 10 universities including Purdue University, Michigan State University and University of Illinois. The matches that they lost were close, and we're all very proud of how well they did this year," Professor Brezina said. The team also finished in 6th place for the Programming Skills Challenge where the pre-programmed robots worked autonomously without driver control for 60 seconds.
The team traveling to California for the championship included David Barnes and John Hamel of Mechanicsville, Chi Ezekwenna and Stewart Smith of Waldorf and Jonathan Frank of Indian Head, as well as CSM coaches Professor Bernice Brezina and Student Success Center Director Ronda Jacobs.
Other members of the Talons are Willy Hamel of Mechanicsville, Nathan Hancock of Bryantown, Jimmy O'Brien of Waldorf, Tiffany Lei of La Plata and junior team member Jacob Brezina.
In addition to preparing for their own championship competition during the semester, the Talons mentored La Plata High School, who along with Calvert High School qualified for the VEX World Championship through a competition at CSM in February. Both high school teams made it to the quarterfinals in the world competition in their divisions.
The Talons will host an open house from 7:30 to 8:30 p.m. on May 1 to demonstrate their robots and invite students to join the 2013-14 team. The open house and tour of the robotics lab will be in Room 162 of the Francis P. Chiaramonte, MD Center for Science and Technology (ST) Building on the La Plata Campus.
"We followed the matches throughout the competition and received regular updates from the team —the entire college was rooting for them and we couldn't be more excited for them and their success," said CSM President Dr. Brad Gottfried. "There is no doubt that these students will have bright futures in whatever field they choose. Not only are they mastering the mechanics of robotics they are learning how to work as a team—that's crucial in today's job market."
The Talons are sponsored by The Patuxent Partnership, PNC, and Mr. and Mrs. Vincent Hungerford.
"The team's trademark became competing each match with Blow Pops in hand," said Ms. Jacobs. "By the last match, their competitors joined in."
For information on CSM's collegiate robotics program, click here  or contact Professor Brezina at berniceb@csmd.edu.