CSM's Giving Tuesday Is Nov. 28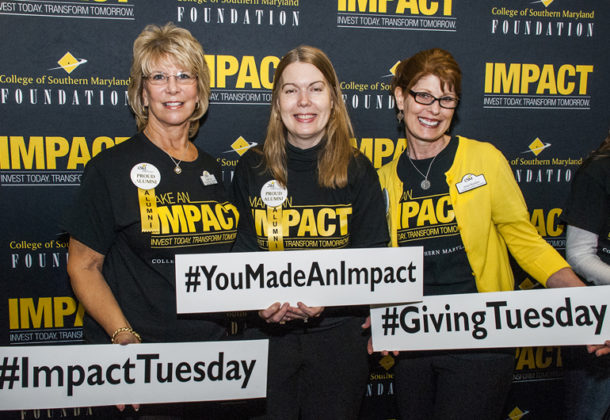 CSM Foundation Director Linda Cox with her niece Lisa Case and CSM payroll specialist Anne Buckler participate in last year's Giving Tuesday event.
The College of Southern Maryland Foundation is gearing up to celebrate Giving Tuesday, a day when local residents step forward with gifts large and small to help local community college students as they work toward degrees, mastery of new skills sets, or certificates.
This year's Giving Tuesday is set for Nov. 28, 2017.
"The participation across the region is amazing to me," said CSM Foundation Chair Nancy Hempstead, adding that corporate sponsors, residents, staff at the college, and numerous students participate. "It always warms my heart, the community support for this event."
An international day for generosity, Giving Tuesday follows other constructed traditions of Black Friday, Small Business Saturday, and Cyber Monday to focus on philanthropy and giving to others after so many days of frenzied consumerism. While this is primarily an online giving event, donors can also mail checks dated Nov. 28.
"Giving Tuesday is one of those days that just helps you put into perspective the meaning of giving," said CSM Foundation Event Chair Brenda Lowe. "As you move into what can sometimes be considered a frantic holiday season, it is a great time to donate to CSM and help provide scholarship opportunities to hundreds of students.
"Giving Tuesday is the biggest 24-hour online giving day of the year around the world," Ms. Lowe added. "What a wonderful way to start off the holiday gift-giving season."
One attractive feature of Giving Tuesday is that is an opportunity to donate to a matching scholarship fund. Generous donors have pledged to match gifts made to their scholarship funds, dollar for dollar, on Giving Tuesday. "A donation to a matching fund automatically doubles the donation's impact," Ms. Lowe said.
Linda Cox, director of the CSM Foundation, and her family created the Cox Family Memorial Scholarship at CSM and for the past two years has set up matching funds donations to her scholarship during Giving Tuesday.
"My late husband and I both shared the belief that higher education should be affordable to every individual," Ms. Cox said. "The Cox Family Memorial Scholarship is available not only to students pursuing a full-time degree but to those who can attend part time so that anyone who desires to take their education to the next level, learn a trade, or fit school into their schedule, can do so. Giving Tuesday is a wonderful vehicle that brings attention to charities in communities on a local and national level. As a CSM alumnae, I am proud to participate in facilitating scholarship monies to deserving members of my community."
The 2016 Giving Tuesday event at CSM was also the CSM Foundation's public launch of its "Make An Impact" campaign. The campaign, "Make An Impact: Invest Today to Transform Tomorrow," surpassed its original goal of $10 million and challenged the community to help raise another $2 million by 2018, as the college celebrates its 60th anniversary. The Impact campaign is focused on three major initiatives — scholarships; technology and facilities; and entrepreneurship and innovation.
"Our main focus this year is raising scholarship funds because the need is so great," said CSM Director of Development Chelsea Brown. However, donors can also choose to give for other CSM needs, including the Athletic Department's efforts to renovate its baseball field.
Students seeking scholarship assistance can learn about all the scholarships that match their circumstances by using the college's Scholarship Finder. Also, students can view all scholarships that are available at the same site. For more information or assistance, call the Financial Assistance Department at 301-934-7531.
For information on Giving Tuesday at CSM or to donate during the event, visit the CSM Foundation website.
For more about the College of Southern Maryland, visit its Leader member page.