CSM Initiates Travel Study Scholarship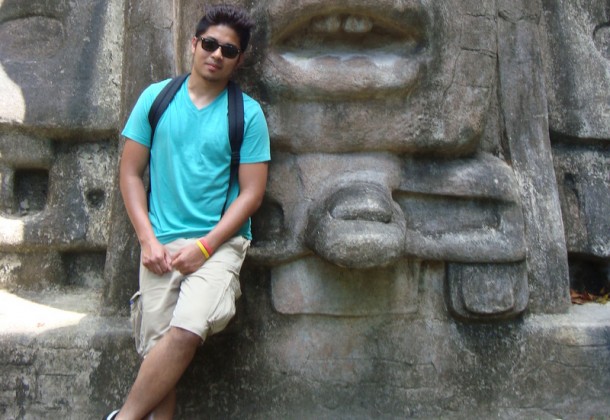 Posted for
College of Southern Maryland
Pax III  
College of Southern Maryland student Gian Karlo Santos, of California, Maryland, became the first CSM student to benefit from a new Travel Studies Scholarship.
The award sent him swimming among turtles, sting rays and nurse sharks in the warm waters of Belize this spring, literally opening a view on another world.
The CSM travel study course to Belize worked in teams to identify 100 organisms and record their field observations as part of the marine biology course.
Richard Siciliano, professor of English and the donor and creator of the scholarship fund, said that while the college's travel studies courses are a unique experience, the courses aren't inexpensive.
"I started the travel studies scholarship partly to assist students to take part in what I consider to be one of the most valuable educational experiences there is — international travel," said Prof. Siciliano. "Having organized and taught a travel studies course myself (to London, England, in 2004), I know how hard it is for a student to afford a travel-studies course, no matter how valuable that experience might be. It can be expensive particularly for a community college student when you consider it's not just the travel costs, but there's the tuition as well."
CSM offers a number of travel studies courses to various places including Belize (spring), Ireland and Vietnam (summer). Students register for the accompanying course, such as the marine biology course Mr. Santos took, and complete academic work before the trip. Then they get real life "lab" experiences in the country of travel.
"[Biology Professor] Paul Billeter and I have been leading travel-study courses to Belize for CSM for more than 10 years now," said Carolin McManus, CSM professor and coordinator of the Cultural Studies degree program. "These courses have the highest impact on students' learning and worldview than any other coursework we do. We've weathered a great number of obstacles in keeping the program going, one of which is struggling to keep travel-study activities affordable."
While the scholarship doesn't cover all the costs of a travel studies course, it helps offset expenses, said Prof. Siciliano, who had the opportunity in 1994 to travel and study throughout the People's Republic of China on a Rhodes Scholarship.
"I'd definitely do it again," said Mr. Santos, who lives in and works at a boarding house for Korean exchange students in St. Mary's County while completing his associate's degree in Applied Science and Technology.
CSM's travel studies program falls under the auspices of the college's Integrative Learning Center. Staff of the center assist with the bursar's office to restructure fees and offer payment plans for these courses. For information about the program, visit www.csmd.edu/ILC/TravelStudy.html.