CSM Helps Seniors Pursue Fitness Goals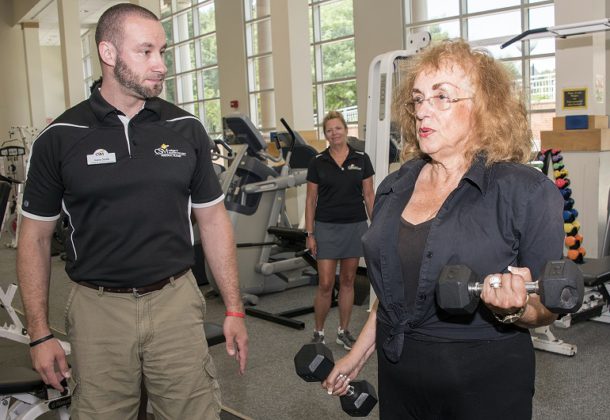 The College of Southern Maryland has a message for senior citizens who want to stay fit or get fit: It's never too late to start! And CSM has the facilities, the trainers, and the fitness classes to get you on your way.
Just ask Charlotte Weirich.
Ms. Weirich of Charles County began her retirement in 2014 with big expectations — volunteering, travel, and plenty of social engagements were all on her to-do list.
However, a variety of health concerns came to light that changed some of those plans, including cholesterol and bone density issues.
"All of this was such a shock," Ms. Weirich said. She had been physically fit in the 1970s, she said, a time when she really worked on her fitness. Even though in recent years she seemed to be healthy and was at a good weight, her work had required hours and hours of sitting at a desk, and she found she didn't have the energy or inclination to exercise.
"Life overcame me," Ms. Weirich said.
It was time for Ms. Weirich to start re-investing in her physical health. "After several check-ups with various medical specialists, I reached the conclusion that I needed an active exercise program on a weekly basis," she said.
Weirich turned to CSM for help.
"I went to the CSM Fitness Center and received a general overview," Ms. Weirich said. A fitness assessment is a great tool to assist in creating a balanced, effective fitness program, according to Ms. Pomponio, who met with Ms. Weirich during her initial visit and encouraged Ms. Weirich to pursue her fitness goals. CSM staff assesses cardiovascular endurance, muscular strength and endurance, body composition and flexibility. Ms. Weirich received a computer printout of her results and a personalized exercise program.
CSM is an excellent community resource for the facilities and training expertise that Ms. Weirich sought, Ms. omponio explained, describing the pools at the La Plata and Leonardtown campuses being available for swimming laps or joint-friendly aquatics classes as well as fitness centers at La Plata, Leonardtown, and Prince Frederick campuses which feature cardio equipment, machines and free weights. Fitness studios, exercise rooms, and a variety of classroom spaces are available for aerobics and other fitness activities including Zumba, tai chi, yoga, and more. In addition, all three facilities have specialized fitness assessment rooms for individualized consultations and fitness analyses. And every fitness center has helpful staff ready to answer questions and assist.
"I decided to go for it and registered for the personal physical training program," Ms. Weirich said. "I was quite embarrassed to start with such poor physical fitness skills. That feeling changed when I was assigned to fitness trainer Aaron Smith, who demonstrated a tremendous amount of understanding in working with me from the start. I was in very poor shape, so Aaron began with the basics. He demonstrated tremendous knowledge about the exercises on which I needed to focus. He also forced me to be goal-oriented."
"She's very involved in the community. She wants to keep going," Ms. Pomponio said.
For the next two years, Ms. Weirich met two or three times a week with Mr. Smith at the fitness center on the La Plata Campus. Mr. Smith has incorporated both weight training and cardio workouts along with plenty of humor to help get Ms. Weirich's health back on track. "Miraculously, he did not lose patience with me; in fact, I always joke that he has the patience of a saint when working with this little old senior citizen," Ms. Weirich said.
Mr. Smith included work on the elliptical machine as part of Ms. Weirich's training because it is particularly helpful and safe for someone with bone issues like Ms. Weirich, he said. "This can be a difficult process," Mr. Smith conceded. But he noted that if people stick to a program they can truly re-create their health.
"She is doing great. It's really helping her." Ms. Pomponio said. "She had to make this a priority, and she did it."
Ms. Weirich reports that her bone density has improved. She lost 20 pounds. "I am much more energetic. I find I am much more alert," she said. She noted that in addition to exercise, an improved diet and meditation have helped her get her health back on track.
"I plan to continue participating in the personal training program at the CSM Fitness Center as long as I am upright," she said, thanking the CSM staff for "the knowledge, skill and perseverance to work with me."
CSM also offers a variety of fitness classes that would be appropriate to someone just starting a new fitness program. For instance, the Strength and Functional Conditioning Class is appropriate for most, even those who even those who have been released by their doctor from physical therapy, Ms.. Pomponio said.
"We want them to have quality of life. As we're living longer, we want quality of life. It's never too late to start. That's the biggest message. I've seen such fabulous results," Ms. Pomponio said. "We have great pools. Beautiful facilities. It's such a comfortable atmosphere here. We try to make everyone here part of the family."
For information personal fitness programs and facilities at CSM, click here.
For more about the College of Southern Maryland, visit its Leader member page.