County Moves Toward Buck Hewitt Widening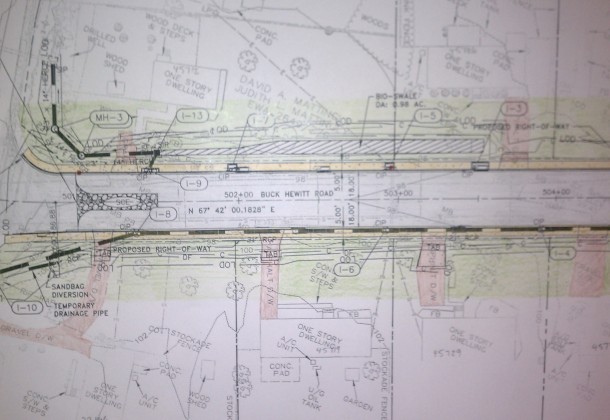 By Jay Friess
Editor
Residents appeared wary but intrigued Thursday by St. Mary's County's plans to finish widening Buck Hewitt Road in Great Mills, Maryland.
The $900,000 proposed project would take five feet of property from homeowners along the 800-foot section remaining to widen. However, it promises to add street parking and improve drainage in their frequently flooded yards. The project would lower the roadway by one to two feet. The county plans to get grading easements from homeowners in order to improve water flow into the roadway.
The project area would have been widened along with the rest of the road in the 1990s, but county engineers wanted to wait until the recent completion of Chancellors Run Road before completing the final strip of Buck Hewitt Road, which intersects with it.
The county plans to begin property acquisition for the project later this year, a prospect that had a few homeowners upset. The county plans to begin constructing the project in the spring of 2014.
For more information on the project, call the St. Mary's County Department of Public Works and Transportation at 301-863-8400 or it via the county's web site.