Congress Hears Report on Aviation Readiness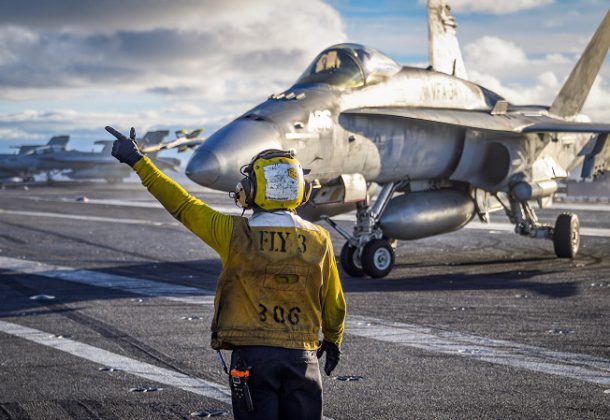 Morning Coffee is a robust blend of links to news around the Internet concerning the Naval Air Station Patuxent River

economic community. The opinions expressed here do not reflect opinions of the Leader's owners or staff.
Just one-third of the US Navy's F/A-18 Super Hornets were fully mission-capable and ready to "fight tonight" as of October, the head of Naval Air Forces told Congress on Friday, reports Navy Times. "The demand for naval aviation forces greatly exceeds our ability to supply those forces," VADM Troy Shoemaker said.
The US might be in talks with the United Arab Emirates over a potential F-35 sale, but the US Air Force's head of Central Command doubts the UAE would be able to operate the Joint Strike Fighter alongside a fifth-generation Russian fighter. Flight Global reports Lt. Gen. Jeffrey Harrigian says, "Frankly I'm not sure it's doable. You can figure out a way to do it but we're protected with what's coming off the F-35. To try and introduce it into something that we don't operate it with is not some place I would expect we're going to go."
The UAE plans to purchase warships, Defense News reports. It has selected the Gowind corvette from Naval Group in an order for two warships and an option for two more, in a bid to boost the Gulf state's naval capability.
The Dubai Air Show opened with Emirates and Boeing reaching a $15.1 billion deal, reports Fortune magazine. Long-haul carrier Emirates purchased 40 American-made 787-10 Dreamliners on Sunday at the start of the biennial Dubai Air Show, a deal certain to please President Donald Trump who has touted the plane's sales as a job creator in the US.
Japan showcased its new Kawasaki C-2 transport aircraft for the first time amid the international crowd at the air show, reports Defense News. Also in Dubai, Airland Textron flew its Scorpion ISR light attack aircraft to the show from Saudi Arabia, reports Arabian Aerospace. Scorpion test pilot Brett Pierson said that the aircraft had weapons clearance work conducted at NAS Pax River.
A United Arab Emirates official warned a gathering of US government, military, and business leaders on Sunday that Iranian-sponsored terror, while similar to al-Qaida and ISIS, has greater potential for impacting negatively on the region and the world, reports Defense News.
Japan will delay a decision to develop a new advanced fighter jet, reports Reuters, as military planners settle on a design and officials splash out on new US equipment such as ballistic missile interceptors and F-35 stealth planes.
Unmanned aerial vehicles will be the most dynamic growth sector of the world aerospace industry this decade, Business Insider reports, more than tripling in the next decade, according to a market analysis conducted by Teal Group
The Navy's Naval Air Warfare Center Aircraft Division Lakehurst has inaugurated its new aircraft launch and recovery equipment technology integration center, reports Naval Technology. The facility aims help integrate ALRE systems before they are delivered for deployment onboard Navy vessels.
Lockheed Martin will development high-powered fiber lasers for the Air Force Research Lab, reports My Broadband. The AF lab will test the laser on a tactical fighter jet by 2021.
NASA will test "space lasers" with the latest launch from Wallops Island, reports RT.com.
An innovative new self-raising dike protects the village on the edge of Eemmeer Lake, 30 miles southeast of Amsterdam, reports The Washington Post. The 984-foot-long barrier is concealed in the sidewalk when not in use, and is lifted up to 31 inches by the very floodwaters it is designed to keep out. It's just the latest example of Dutch ingenuity and planning in the low-lying nation's constant battle with water.
Contracts:
Mancon, LLC, Virginia Beach, Virginia, is being awarded a $44,305,000 indefinite-delivery/indefinite-quantity contract, resulting from solicitation N00189-17-R-0033, that will include terms and conditions for the placement of firm-fixed-price task orders for maintenance, repair, and operations supplies and materials in support of the public works department in the northeast region under Naval Facilities Engineering Command. The contract will include a five-year ordering period. Work will be performed in Newport, Rhode Island (25 percent); New London, Connecticut (25 percent); Earle, New Jersey (25 percent); and Kittery, Maine (25 percent), and the ordering period of the contract is expected to be completed by December 2022. Fiscal 2018 working capital funds (Navy) in the amount of $10,000 will be obligated to fund the contract's minimum amount and will expire at the end of the current fiscal year. This contract was competitively procured with the solicitation posted to the Federal Business Opportunities website as a small business set-aside requirement, with three offers received. Naval Supply Systems Command Fleet Logistics Center Norfolk, Contracting Department Norfolk, Virginia, is the contracting activity (N00189-18-D-0001).