Conference Focuses on Women in STEM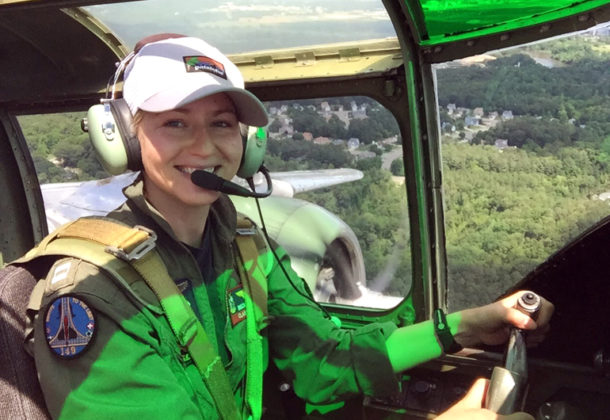 CSM Hopes to Inspire, Challenge
The College of Southern Maryland has created an event that will expose women in their teens and older to a wide range of career opportunities in STEM (science, technology, engineering, and math). CSM's Women + STEM Conference = Infinite Possibilities will be held from 8:30 am to 3:30 pm April 1 at the college's La Plata Campus and focuses on women in STEM.
The annual conference was created to keep girls from limiting their education and career options. "It is very important to share with young women all of the opportunities available to them," said College of Southern Maryland professor Sandra Poinsett.
Presenters at the conference are professional women in various stages of their careers who work in a STEM profession. The event starts with a continental breakfast in the Center for Building and Industry (BI Building) and keynote speaker Lt. Rebecca Shaw, a test pilot for the US Navy.
Lt. Shaw is the perfect person to speak about exciting opportunities in the STEM field. She has the background to talk about travel, challenges, and personal achievement that are available in STEM careers.
She is a 2009 graduate of the US Naval Academy with a degree in mechanical engineering. She earned her naval aviator wings and served with the Golden Eagles of Patrol Squadron NINE (VP-9). While attached to VP-9, she was deployed to Italy, Greece, and Spain and conducted detached operations in Iceland and Scotland.
Lt. Shaw was selected to attend US Naval Test Pilot School, and she graduated from the Engineering Test Pilot School course in June 2016. Following graduation, she reported to Air Test and Evaluation Squadron TWO ZERO (VX-20) and now serves as an MQ-4C Triton project officer and flies the P-8A Poseidon. Last fall she was accepted into Johns Hopkins University professional engineering program, where she is working on her master's degree in space systems engineering.
She has flown a combination of 20 models of jet, prop, and rotary wing aircraft and has won numerous awards while compiling more than 1,200 hours of flight time.
"She is an excellent role model for young women," Ms. Poinsett said.
The Women + STEM = Infinite Possibilities conference also will feature workshops, presentations, and discussions designed to inform young women on careers that rely heavily on science, technology, engineering, or mathematics. The event is open to young women 13 and older as well as high school math teachers and parents.
Those who register before March 26 have a chance to win a gift card. For information and to register, visit CSM's website. For more information, call 301-934-7808 or email sandrap@csmd.edu.
The conference is a free event sponsored by the CSM Foundation.
For more about the College of Southern Maryland, visit its Leader member page.