Concert Features Latin American Music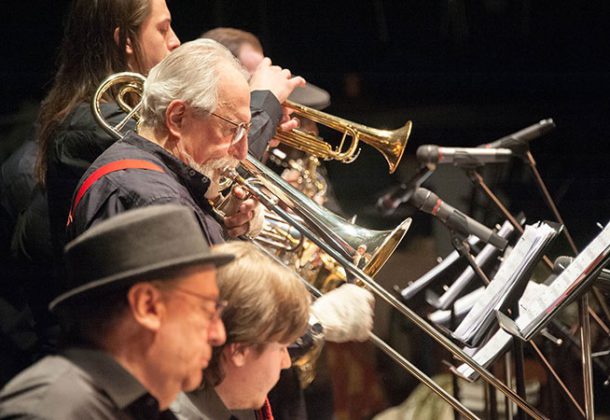 Latin American music will be featured in a concert April 27 at the College of Southern Maryland's Prince Frederick Campus.
CSM's Latin Ensemble Ritmo Caché, directed by Dr. Stephen Johnson, specializes in salsa, Mexican, Afro-Cuban, merengue, and Latin jazz. In addition to the "big band" of 20 musicians, there is a small combo of eight musicians which performs occasional off-campus events. The group is open to both CSM students and community members who have a love of Latin American music.
The Latin Ensemble concert tickets are $7 for adults; and $5 for senior citizens, military with ID, and youth of high school age and below. Purchase tickets online here. Adult tickets are $5 when purchased before the day of the concert. Cash or check are accepted at the door. The concert will begin at 8 pm Friday, April 27, 2018, in the Building B multipurpose room at 115 J.W. Williams Road in Prince Frederick.
Also on tap at the college will be the CSM Pops Concert at 7 pm May 5 at the La Plata Campus Fine Arts Center at 8730 Mitchell Road. Tickets are $15 for adults; and $12 for seniors, military with ID, and youth of high school age and below. This concert will feature performances by CSM Barbershop Chorus, Latin Ensemble, Chorale, and Chamber Choir.
The Latin Ensemble is always seeking new members. No auditions are necessary; beginners are welcome and will receive on-the-job training. Brass, woodwind, piano, bass, and guitar are expected to have some band or lesson experience. The ensemble meets on Wednesday nights each semester from 7 to 9:30 pm.
Instrumentation includes drums: congas, bongos, timbales; hand percussion: guiro, cowbells, claves, maracas, and shakers; rhythm section: piano, bass, and guitar; woodwinds: flute and saxophone; brass: trumpet, trombone, or other low brass; and vocals: men and women. Other instruments will be considered. The ability to sing in Spanish is a plus but is not required.
For more information, contact Dr. Stephen Johnson in the CSM Department of Communication, Arts, and Humanities at 301-934-7578.
¡Que viva la Música!
For more about the College of Southern Maryland, visit its Leader member page.