First Commercial Drone Gets the Nod from FAA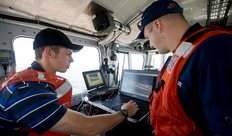 Morning Coffee is a robust blend of links to news around the internet concerning the Naval Air Station Patuxent River economic community. The opinions expressed here do not necessarily reflect those o

f the Leader's owners or staff.
Pax River develops the technology for drones to communicate with manned aircraft, reports The Tester.
FAA approves first UAS for commercial launch, reports Aviation Week. Details are under raps but the airspace is expected to be in the Arctic region.
Energy efficiency is now a metric in procurement and weapons development process, reports Defense Tech, complicating the process even more say critics.
Budget slashes appear more appealing than war spending to former "defense bloc' of legislators, reports Defense News. Sequestration has slowed down JSF testing at Edwards, reports Inside Defense. (Paywall.)
A start-up aircraft company takes on the primes and advances. Defence Talk wonders if this newbie in the Army's JMR/FVL competition will lead to the greater efficiencies the defense establishment needs.
Close votes in the US House of Representatives show growing support for greater oversight of national security operations, reports The Hill.
Defence Talk reports, 68 percent of cyber attacks originate in the Asian Pacific/Oceania region. First and second ranking culprits are China and Indonesia who make up at least half of that 68 percent. The US ranks third, producing 8 to 10 percent of all offensive cyber attacks.
The US Navy steps up to ordnance retrieval on Great Barrier Reef, reports Defense.gov. The National Geospatial Intelligence Agency is undergoing an exhaustive review of its global maps, reportw Breaking Defense.  The relevant NGA map was found inaccurate in the January grounding of the minesweeper USS Guardian in a Philippine coral reef.
Soldiers at the Utah Test and Training Range are preparing for deployment to Aberdeen Proving Ground JLENS, an elevated, persistent over-the-horizon sensor system for operational evaluation, reports Defence Talk.