Comfort Inn Celebrates With Pride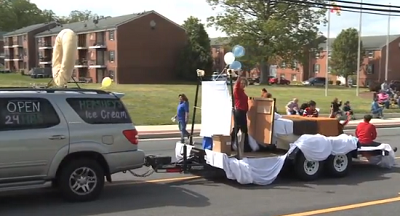 Posted by
Comfort Inn & Suites
Bay Leader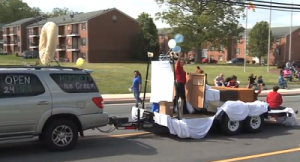 One of the newest hotels to the area, Comfort Inn & Suites is making themselves right at home and getting involved in the community. Along with Donut Connection, they participated in the 2nd annual Pride in the Park Parade celebrating the 70th anniversary of the commissioning of Naval Air Station Patuxent River.
"We decided to join the parade to show our community support.  Donut Connection has been a part of the community for years and both the Donut Connection and Comfort Inn and Suites will be for years to come!" said Pamela Lowe, director of sales at Comfort Inn & Suites Pax River.
Comfort Inn & Suites, one of 22 new groups to participate this year, built the parade's first ever float and cheerfully greeted parade spectators from a mock-up of one of their homey suites.
" We enjoyed the team building it allowed our employees, we all had fun coming up with the ideas for the float and creating it as well as participating in the parade itself." said Ms. Lowe.
To see the parade as filmed by Phocus Video:
[youtube=http://www.youtube.com/watch?v=1uCuS19CoGI&feature=youtu.be]