Clutch Issues Ground Some V-22 Ospreys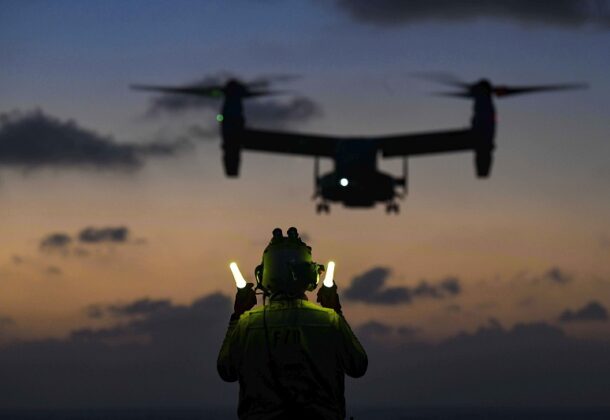 A US Marine Corps MV-22B Osprey approaches the flight deck of the Lewis B. Puller-class expeditionary sea base USS Hershel "Woody" Williams on January 6, 2023. (US Navy photo by Mass Communication Specialist 2nd Class Conner D. Blake/Released)
Morning Coffee is a robust blend of links to news around the internet concerning the Naval Air Station Patuxent River

economic community. The opinions expressed here do not reflect opinions of the Leader's owners or staff.
The US Naval Air Systems Command grounded a subset of V-22 Osprey aircraft last week due to hard clutch engagement issues with the tilt-rotor aircraft, reports Naval Technology. The grounding comes after the Air Force last year grounded its CV-22 Osprey fleet due to ongoing problems with the hard clutch. At that time, the Navy and Marine Corps opted not to ground their fleets.
Canadian Prime Minister Justin Trudeau said Saturday that on his order a US military plane shot down an unidentified object that was flying high over northern Canada, reports The Associated Press. This came a day after a US Air Force F-22 took similar action over Alaska.
On Friday, an F-22 took down an object flying over Alaskan airspace days after shooting down a Chinese spy balloon off the South Carolina coast earlier in the week, reports The Hill. John Kirby, a national security spokesman, said the Defense Department had been tracking a "high-altitude object" over Alaska at 40,000 feet that posed "a reasonable threat to the safety of civilian flight." The one missile shot was an AIM-9X Sidewinder, according to DoD.
Congress united last week in its condemnation of China over the spy balloon incident but split over the Biden administration's handling of episode, reports Politico. Many members said the US should have shot down the balloon before it completed its transit across the country, reports New York Post. "I know we're going to have an opportunity for more information in the classified brief," Sen. Lisa Murkowski (R-AK) said. "[But] I think that the American public deserve more than they have seen in terms of transparency about why this spy balloon was allowed to spend two days over our waters and over the state of Alaska."
House Republicans are taking a look at how to squeeze savings from the Defense Department budget, reports Defense News. Proposals range from reducing the Pentagon's civilian personnel to procurement reform to possible base closures to halting the military's efforts to fight climate change.
As spending cuts loom, the Biden administration is preparing to ask Congress for the largest Pentagon budget in history, reports Politico.
Former acting defense secretary Chris Miller is making the case for the Pentagon's budget to be cut in half in his new memoir, "Soldier Secretary," reports The Hill. Miller said the military should be molded into a leaner and nimbler fighting force with prioritized areas of focus.
The US military and manufacturers of the F-35 have found a potential solution to the engine troubles that halted deliveries of the jet for nearly two months, reports Navy Times. Pratt & Whitney confirmed the development of a near-term solution meant to allow the company to resume delivering F135 engines to Lockheed Martin by the end of February.
Navy CAPT Theodore E. Essenfeld, 51, a former commanding officer of the dock landing ship Pearl Harbor, has been charged with cyberstalking, reports Navy Times. Essenfeld is alleged to have created fake social media accounts using his civilian ex-girlfriend's name and images and posted erotic photos and videos of the woman that she had privately shared with him during their relationship.
Great Britain is set to train Ukraine combat fighter pilots, reports Defense News.
The US Navy has salvaged a security patrol boat that hit a security barrier and sank at Naval Base Kitsap-Bangor, WA, reports Navy Times. The ship was in roughly 160 feet underwater in the Hood Canal.
CAPT Loukas Papadopoulos, a naval engineer and information warfare (space) officer, was sworn in last week as the new Office of Naval Research Reserve Component's commander, reports DVIDShub.net.
The National Science Foundation has released its report on diversity in science, technology, engineering, and math. Some takeaways from the report: In 2021, among people 18 to 74, women made up 51% of the total US population and about a third (35%) of people employed in STEM occupations. In 2021, nearly a quarter (24%) of individuals in the US workforce were employed in STEM occupations. Women still earn just 21% of bachelor's degrees in computer science, a smaller share than a generation ago.
The University of South Florida chapter of the National Society of Black Engineers is helping to inspire the next generation of Black engineers, according to USF. More than 250 undergraduate and graduate students are members of NSBE – up nearly 400% since 2017.
Employers are putting an ever-growing premium on expertise in the fields of science, technology, engineering, and math, reports Forbes, as it recommends not forgetting the "A" in the STEM acronym. There are reasons to remember the arts in today's innovations: variety and viability of innovation, inclusion of innovators, and creating pathways from passion.
Seven employees from HII's Newport News Shipbuilding, Ingalls Shipbuilding and Mission Technologies divisions were recognized for achievements in the science, technology, engineering, and math fields during the 37th annual Black Engineer of the Year Award STEM Conference, reports The Wall Street Journal. The conference was held last week at the Gaylord Convention Center in National Harbor, MD.
The US Air Force and Navy have implemented a pilot program for overseas locations that allows DoD organizations to hire qualified military spouses for some civil service positions, outside the competitive hiring process, reports Military Times.
Four military supply specialists shared the spotlight with pregame and halftime entertainers during a 59-second Defense Logistics Agency commercial during Super Bowl LVII on American Forces Network, reports DoD. The Supporting the Force spot gave viewers a glimpse of supplies the agency offers through four service-specific scenes featuring troops on flight lines, in the field, and in supply shops.
Just before the Super Bowl kickoff on Sunday, fans at State Farm Stadium in Arizona were treated to a first: A US Navy flyover piloted by seven women, reports CBS News. The flyover commemorated 50 years since women were allowed to become Navy pilots.
Contracts:
Northrop Grumman Systems Corp., Linthicum, Maryland, is awarded a $17,000,000 modification for the firm-fixed-price portion of a previously awarded contract (M67854-19-C-0043). The total cumulative face value of the contract is $997,315,343. This modification provides for the exercise of one option contract line item to procure three Ground/Air Task Oriented Radar Gallium Arsenide technology to Gallium Nitride technology retrofit kits in support of Program Executive Officer Land Systems, Quantico, Virginia. Work will be performed in Linthicum, Maryland, and is expected to be complete by Feb. 9, 2026. Fiscal 2023 procurement (Marine Corps) funds in the amount of $17,000,000 will be obligated at the time of award and will not expire at the end of the current fiscal year. The contract modification was not competitively procured. The base contract was not competitively procured pursuant to Defense Federal Acquisition Regulation 6.302-1 and 10 US Code §3204(a)(1). Marine Corps Systems Command, Quantico, Virginia, is the contracting activity (M67854-19-C-0043).
nTSI LLC, a Joint Venture, Huntsville, Alabama, is being awarded a competitive, cost-plus-fixed-fee, level-of-effort contract with a total value of $637,123,220. Under this new contract, the contractor will support the layered Missile Defense System (MDS) and help advance concepts for future MDS inclusion. Activities will include supporting the government with: threat systems engineering; advanced technology; directed energy; hypersonic defense engineering; space systems engineering; U.S-Israeli Cooperative Program engineering; cybersecurity systems engineering; test analyses and reporting; lethality, hit assessment/kill assessment, and collateral effects and consequence management; and, concurrent test, training, and operations engineering. The work will be performed at Redstone Arsenal, Alabama; Fort Belvoir, Virginia; Kirtland Air Force Base, New Mexico; Tel Aviv, Israel; and Schriever Space Force Base, Colorado. The performance period is from February 2023 to August 2030. This contract was competitively procured via publication on the SAM.gov website with two proposals received. Fiscal 2023 research, development, test and evaluation funds in the amount of $8,302,098.15 are being obligated at time of award. The Missile Defense Agency, Huntsville, Alabama, is the contracting activity (HQ0858-23-C-0001).
AVM Construction LLC, South St. Paul, Minnesota (W912LM-23-D-1000); Cheroenhaka Nottoway Enterprises LLC, Courtland, Virginia (W912LM-23-D-1001); Hamline Construction Inc., St. Paul, Minnesota (W912LM-23-D-1002); Bruce Kreofsky & Sons Inc., Plainview, Minnesota (W912LM-23-D-1003); Loeffler Construction Consulting LLC, Lakeville, Minnesota (W912LM-23-D-1004); Max Gray Construction Inc., Hibbing, Minnesota (W912LM-23-D-1005); Preferred Electric Inc., Minneapolis, Minnesota (W912LM-23-D-1006); and Versacon Inc., Minneapolis, Minnesota (W912LM-23-D-1007), will compete for each order of the $49,000,000 firm-fixed-price contract for maintenance, repair, and construction activities. Bids were solicited via the internet with nine received. Work locations and funding will be determined with each order, with an estimated completion date of Feb. 9, 2028. US Army National Guard Bureau Acquisition Directorate, Arlington, Virginia, is the contracting activity.
WSP USA Solutions Inc., Washington, DC (W912GB-23-D-0015); AECOM International Inc., Neu-Isenburg, Germany (W912GB-23-D-0011); Alberto Izzo & Partners, Naples, Italy (W912GB-23-D-0013); and A.I.C.E. Consulting, Srl, San Giuliano Terme, Italy (W912GB-23-D-0014), will compete for each order of the $9,000,000 firm-fixed-price contract for architect-engineer services. Bids were solicited via the internet with eight received. Work locations and funding will be determined with each order, with an estimated completion date of Feb. 9, 2028. US Army Corps of Engineers, European District, is the contracting activity.
Valiant Integrated Services LLC, Herndon, Virginia, has been awarded a maximum $530,000,000 firm-fixed-price, indefinite-delivery/indefinite-quantity contract for full-line food distribution. This was a competitive acquisition with eight responses received. This is a three-year contract with no option periods. Location of performance is the Southern Arab Peninsula and Nations of Eastern Africa, with a Jan. 18, 2026, ordering period end date. Using customers are Army, Air Force, Navy, Coast Guard and Marine Corps. Type of appropriation is fiscal 2023 through 2026 defense working capital funds. The contracting agency is the Defense Logistics Agency Troop Support, Philadelphia, Pennsylvania (SPE300-23-D-4114). (Awarded Jan. 19, 2023)