Choppers to Get Upgraded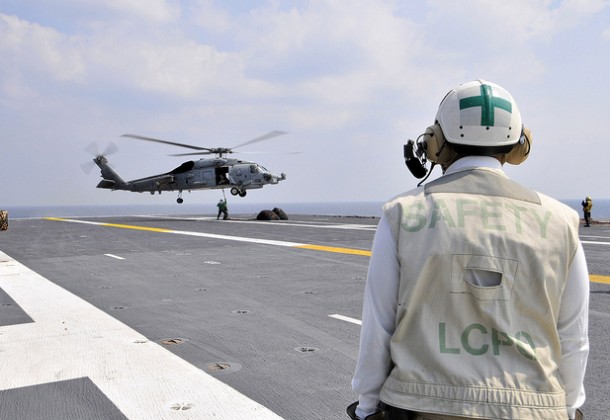 Contracts Solicited:
Pentek Recording Systems – Division, China Lake, CA intends to procure on a manufacturer sole source basis for Pentek High Speed Recording Systems; Qty 2. The Pentek System is mandated due to size and GUI interface to meet the government's requirements.
MH-60R Lot 11 Mission Avionics Systems/Common Cockpits – A modification to a Firm Fixed Price Advance Acquisition Contract (AAC) was awarded to Lockheed Martin Mission Systems and Sensors (LM MS2) on the date above for the FY13 MH-60R Lot 11 Mission Avionics Systems/Common Cockpits and FY13 MH-60S Lot 15 Common Cockpits. The MH-60R Lot 11 procurement will include 24 Mission Avionics Systems and 24 Common Cockpits; the MH-60S Lot 15 procurement will include 18 Common Cockpits. This AAC modification will provide for the long lead material and associated efforts required for the production and delivery of these units.
Midwing Avionics Obsolescence -Bell-Boeing gets $30 million non-compete installment for V-22 Osprey.
UxValidator, P/N 02-1103-01 for H-60 Aircraft – Naval Air Warfare Center Aircraft Division Lakehurst NJ intends to enter into negotiations on a non-competitive basis with Ultrax, Inc. of Lees Summit, MO to procure the UxValidator, P/N 02-1103-01, NSN: 4920-01-526-5799 to support the H-60 aircraft. The UxValidator is a platform that provides O-level organizations with the capability to troubleshoot H-60 Stabilator system faults and validate corrections. The minimum quantity of five (5) units will be procured. The maximum quantity of UxValidators for the life of the contract is one hundred (100) units over five years. This will be a 100% Small Business set-aside in accordance with FAR 19.5. The Government intends to negotiate this procurement under the authority of 10 USC 2304 (c)(1), as implemented by FAR 6.302-1. The Government does not possess sufficient data, drawings, or other specifications to permit full and open competition.
T56-A-427 Propulsion System Maintenance – The prospective contract will be for the receipt, inspection, disassembly, repair and/or modification, assembly, testing, and preservation of the T56-A-427 Propulsion System, modules, Quick Engine Change Kit/Assemblies (QECK/A), and components. The Contractor will provide facilities, labor, material, and arrange for outside services, as required, to return items to a Ready For Issue (RFI) condition. The three major modules of the engine to be maintained and repaired under this contract will be the Navy's T56-A-427 Power Sections, Reduction Gear Assemblies, and Torquemeters.