Chief's Ride to the Wall – May 24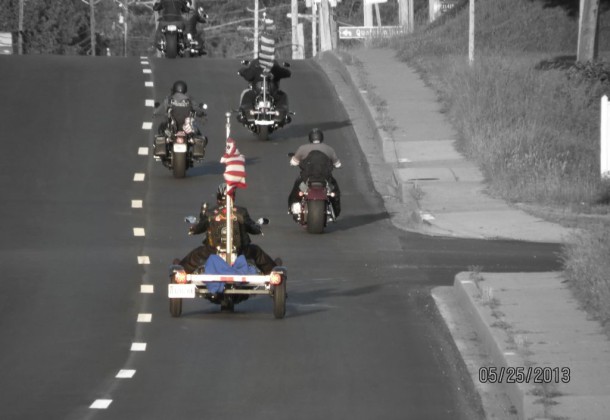 Posted for
King of Tees
May 24, 2015 will be the 8th annual Chief's Ride to the Wall, which has so far raised about $20,000.00 for the Charlotte Hall Veterans Home, the only Assisted Living Veterans Home in the State of Maryland. King of Tees invites you to participate or donate to this very worthy cause. Our fundraising target is $5000 this year. Corporate Sponsorship and Donations are appreciated. ALL Proceeds go to the Veterans home.
All riders are welcome to join the Chief Petty Officers as we ride to raise money for the Charlotte Hall Veterans Home. THIS RIDE IS OPEN TO ANYONE WITH ANY KIND OF BIKE!
Cost of the event is $30 per rider and includes a complementary T-shirt provided by NAVYCHIEF.COM. Participants will assemble at the St. Mary's Airport, California, MD, 6 a m. Departure time is scheduled for 6:30 am.
Riders will  proceed to All American Harley Davidson in Hughesville, MD, to join the other riders making their way to the Pentagon to participate in Rolling Thunder 2015.
This event is sponsored by the PAX River Chief Petty Officers Association, AIRTEC, JHAS, RGVMC, 3RGI and NavyChief.com. Enrollment should be accomplished by 17 May but we will be able to support enrollment at the site on the morning of the ride.
Registration forms can be picked up at Navy Chief/King of Tees, 22665 Van Wert Lane, Leonardtown, MD 20650. Or contact one of our sponsors: [email protected], Frank Deaton at 301-997-6482 or Kim Brown at 301-475-0437.
Please help raise awareness for Veterans' issues and Care by supporting the Charlotte Hall Veterans Home and by participating in The Chief's Ride to the Wall (CRTTW) on Memorial Day. Thanks to all the Chiefs, participants, local businesses, and those volunteers that make this event happen each year.
Frank Deaton introduces a brief video from last year's run: