Center for Trades and Energy Training Opens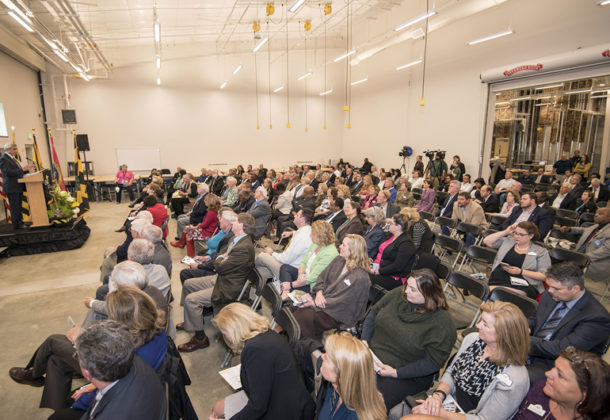 College of Southern Maryland President Dr. Brad Gottfried addresses participants at the dedication and ribbon-cutting April 25, 2017, for the Center for Trades and Energy Training, the first building to be completed on CSM's Regional Hughesville Campus.
College of Southern Maryland has cut the ribbon on its new Regional Hughesville Campus, realizing the college community's dream of having its new Center for Trades and Energy Training, located in the center of the tri-county region.
The center is the first building to open on the Hughesville campus, and will help to meet Southern Maryland's construction trades and energy training needs with the most up-to-date and accessible programs, courses, and equipment.
"This $11 million building was the culmination of a dream and the hard work of so many people," said CSM President Dr. Bradley Gottfried. "I am so incredibly excited about today."
The ribbon-cutting and dedication brought together hundreds of business and community leaders, elected officials, and CSM employees, who toured the new building's classrooms, labs and administration area and heard remarks from county and state representatives and others connected with the planning and funding of the new 30,000-square-foot facility.
CTET started holding classes March 27 and houses CSM's trades training programs — HVAC, plumbing, electrical, welding, and carpentry — which were moved from a smaller, leased facility in Waldorf. The center also serves as the home for the Maryland Center for Environmental Training, which was previously held on the La Plata Campus. The center will continue its work providing environmental, safety and health training and compliance assistance. CTET also has a multipurpose area available at no cost for nonprofits in the community to use for meetings or conferences.
Barbara Scotland of Hughesville, a current trades' student and former CSM professor and department chair, spoke at the event, attesting to the quality of training she received from CSM and expressing her enthusiasm for what the new center demonstrates about CSM's commitment to trades programs.
"I am excited and proud to be able to attend courses at the new CTET. This facility, the equipping of its classrooms and labs, sends a clear message to the community of Southern Maryland. The message is that CSM is as invested in career training and personal enrichment as it is in innovative and accessible degree programs," Scotland said. She also spoke of the rigor involved in attaining certifications in the trades professions and the years it takes to become a licensed journeyman.
Dr. Dan Mosser, CSM vice president of continuing education and workforce development, described the center as "Southern Maryland's solution to the shortage of skilled workers.
"There is no other facility like this anywhere among Maryland's many colleges and universities that focuses entirely on the preparation of non-degree seeking students studying the trades and apprenticeships." He and others emphasized the high demand in the workplace for skills taught in the trades programs.
The building was designed to be environmentally friendly and meets LEED (Leadership in Energy Efficient Design) criteria. This design includes green features like solar panels that generate enough energy to power all the lighting, recycled material in 20 percent of construction materials, all green cleaning products, high-efficiency heat pumps and LED lighting throughout the building.
The new Center for Trades and Energy Training is on CSM's Regional Hughesville Campus at 6170 Hughesville Station Place in Hughesville. The center will host an open house from 10 am to 2 pm every third Saturday of the month through December, and area residents are invited to visit and learn more about programs offered there. For information on the center, call 301-539-4730 or visit CSM's website.
To view a gallery of photos from the dedication and ribbon cutting, visit CSM's photo site.
For more about the College of Southern Maryland, visit its Leader member page.