Celebrate John Cage's 100th Birthday with a Concert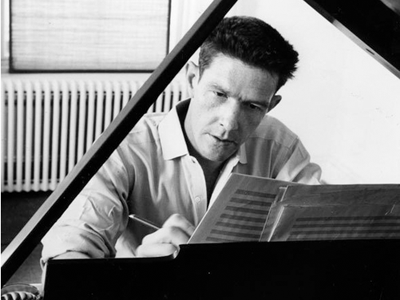 This year marks the centennial of John Cage, an American composer, printmaker, innovator, writer, and philosopher who is widely regarded to be one of the most influential artists of the 20th century. Joining the worldwide celebration of Cage's centennial, St. Mary's College of Maryland music faculty member and pianist Eliza Garth will celebrate on Wednesday, September 5—Cage's birthday—at St. Mary's College of Maryland with a performance of his masterpiece for prepared piano, Sonatas and Interludes.  The concert will take place in the Auerbach Auditorium, St. Mary's Hall, at 8 p.m. and is open to the public, free of charge.
Described by the writer James Pritchett as â€-a big piece with a quiet voice," Sonatas and Interludes is meditative in its esthetic; the â€-preparation" of the piano transforms its sound into an ensemble of gongs, chimes, and magical effects. Although Cage did not invent the â€-prepared piano," he was a major force behind its development and is often associated with it.
Cage studied with trailblazers, including Henry Cowell and Arnold Schoenberg, and opened musical pathways that would later be traveled and extended by minimalist composers. In his mature years as a disciple of Buddhism, he overturned conventional Western conceptions of the nature of sound and music.
This past January, Garth performed Sonatas and Interludes in New York City under the auspices of the League of Composers/ISCM (see review).  In March, she performed the piece in Chicago as part of â€-a.pe.ri.od.ic presents A John Cage Festival" in collaboration with the renowned Floating World Gallery, one of the world's foremost dealers in Japanese art.  In October, she will perform Sonatas and Interludes again at the University of Maryland College Park, where she also will present two masterclasses to graduate student composers and pianists on extended piano techniques and the prepared piano.
Garth has achieved international distinction as a performer of the music of our time.  She has championed some of the most demanding works in the repertoire; these include the complete solo piano works of Donald Martino, which she has recorded for the Centaur label.  As stated in the New York Times, 'Ms. Garth…has an exquisite ear for piano sound. One can think of no one better qualified to play this intricate, shining music.'  Her performance of John Cage's Sonatas and Interludes was recognized with an Individual Artist Award from the Maryland State Arts Council in 2010.  Garth is a graduate of The Juilliard School.  For more information about Eliza Garth, please visit www.elizagarth.com.
Source: St. Mary's College of Maryland