Where's the Bus?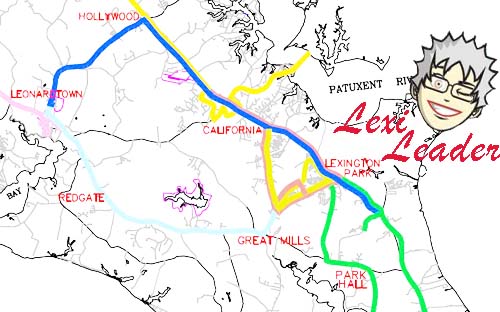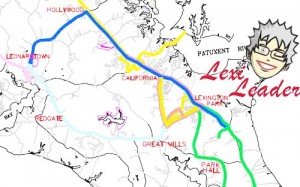 By Viki Volk Publisher
St. Mary's County doesn't actually have bus stops.
That came as quite a shock to me, and also to other non-bus riders. "So," we basically all asked, "how do people know where to catch the bus?"
The way to hop the St. Mary's Transit System — those big white bus/vans with STS emblazoned across them — is to flag one down.
The only place I've ever seen a transportation system work like that was in Jamaica where a down-turned, jabbing index finger indicated to all passing cars the jabber needed a lift.
I now understand this means I haven't taken public transportation in the rural United States.  "Wave at the driver," explains the tri-county transportation's  website for the flagstop system in Moncks Corner, SC, "to let her know you would like to ride and she will stop to pick you up." And that is the flagstop system.
There are multiple attractions for the flagstop system in rural areas: No extra stops, accommodating to sprawled rural development pattern, cost elimination of shelters and signs.
There are, actually, a few bus stops in St. Mary's County, Maryland. Very few, it was emphasized at the November 2011 meeting of the Transportation Advisory Committee of the St. Mary's Transit System. There is one on Tulagi Place, for example.
Still, if you don't live near Tulagi Place, how are you supposed to find what bus you want?
Regular riders, surveys have found, generally begin to congregate and bus drivers generally begin to get an idea of where people like to be picked up.
I didn't know. From my urban transit experiences I'd thought plexiglass shelters with embedded schedules  as ubiquitous as Starbucks. And also pocket-sized fliers, ultimately  decipherable even in another language. Nope and nope again.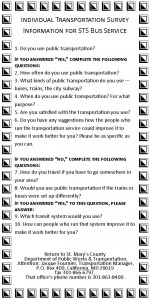 The transit system runs 15 buses a day out of a 27-bus fleet. Nine of the daily buses run public routes described in a five-by-eight inch, 35-page booklet. The other five buses run a type of on-call service tied to the senior-citizen and disabilities grants that underwrite the service and the buses themselves.
The bottom line repeatedly came down to this: Odd provisions such as on-call transportation  and flagging are routine components of a rural bus system that must meet state and federal granting provisos to remain funded. According to the American Bus Association only ten states received less rural transit money from the federal government than Maryland in fiscal year 2010.
That doesn't make the tasks easier, but public transportation remains a core element of a community's economic development.
As early as the 1990s, rural transit systems barely 20 years old, consistently showed strong returns in community economies relative to federal expenditure, according to the Community Transportation Association. The assessments determined significant levels of employment benefits to riders, increased independent living opportunities and improved access to critical medical services.
St. Mary's Transit System is a division of St. Mary's County government and seeks citizen input. One of their surveys is reprinted here, others are on-line at the county's Department of Public Works webpage.