Briefing Set on So. Md. Road Projects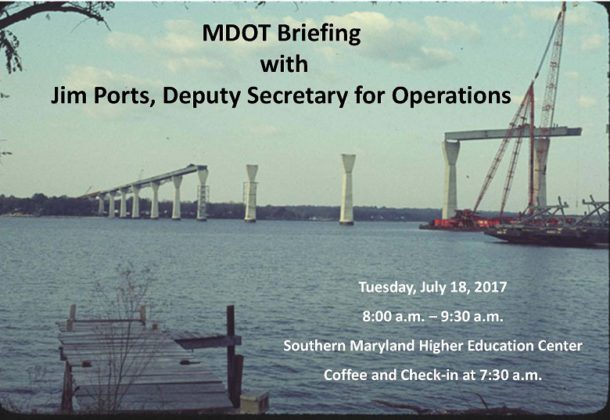 The Patuxent Partnership will host a briefing on So. Md. road projects with Jim Ports, deputy secretary for operations for the Maryland Department of Transportation, from 8 to 9 am Tuesday, July 18, 2017.
The MDOT briefing will be held at the Southern Maryland Higher Education Center at 44219 Airport Road in California, Maryland.
Southern Maryland residents are encouraged to attend to hear Mr. Ports speak. Mr. Ports will brief attendees on transportation priorities, upgrades, as well as concerns in Southern Maryland which include a Gov. Thomas Johnson Bridge replacement, updates on the Accokeek interchange, Motor Vehicle Administration improvements, and other projects intended to improve the commute for those heading to the Washington, DC, metropolitan area.
There is no cost to attend the program. Advanced registration is required to manage seating.
To register, click here.
Check-in will begin at 7:30 am. Coffee will be served.
About The Patuxent Partnership
TPP fosters collaboration and the sharing of knowledge and expertise across a diverse network that includes government, industry, and academia. TPP also supports STEM education and workforce development within the local community including hosting programs of interest to NAVAIR, NAWCAD, and the broader DoD community.
To learn more about The Patuxent Partnership and its programs, visit its Leader member page.