Boeing Loses Canada Hornet Deal to Australia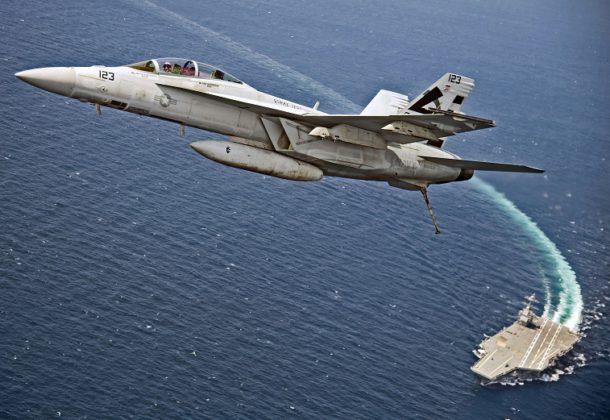 Morning Coffee is a robust blend of links to news around the Internet concerning the Naval Air Station Patuxent River

economic community. The opinions expressed here do not reflect opinions of the Leader's owners or staff.
The Canadian government is poised to walk away from a deal with Boeing to buy 18 F/A-18E/F Super Hornet jets, reports Defense News. Canada's Liberal government plans to proceed with an interim buy of used F/A-18 Hornets from Australia, dashing Boeing's hopes of a Super Hornet sale, three sources familiar with the situation told Reuters.
President Donald Trump intends to nominate Michael Griffin under secretary of defense for research and engineering, reports FCW,  a new position that stems from the reorganization of the Pentagon's acquisition, technology, and logistics organization.
President Trump recognizes Jerusalem as the capital of Israel and announces plans to move the American embassy there, reports The New York Times, upending nearly seven decades of American foreign policy and potentially destroying his efforts to broker peace between Israel and the Palestinians.
DoD failed to file hundreds of military criminal fingerprints with FBI, reports Military Times, between 2015 and 2016 alone, the Pentagon's inspector general reported.
Japan eyes air-to-surface missiles that would put North Korea in range, reports Nikkei, as a means of deterring North Korea from further weapons testing. The Ministry of Defense will request several billion yen (1 billion yen equals $8.8 million) in Japan's FY18 budget for Joint Strike Missiles from Norway's Kongsberg Defence & Aerospace.
"Forged by the Sea," the Navy's new recruiting slogan, is being rolled out as part of a new ad campaign to debut during Saturday's annual Navy-Army football game, reports Navy Times.
VA ID cards are still not ready, reports Military Times. Would-be applicants who visit the VA website are greeted with a message blaming the problem on "a high volume of traffic" and a form promising to notify them when the system is fixed.
Senator Chuck Grassley explains his comment about the estate tax, reports the Chicago Sun Times. He had said in an interview with the Des Moines Register, "I think not having the estate tax recognizes the people that are investing as opposed to those that are just spending every darn dime they have, whether it's on booze, women, or movies.
The top takeaway from a new report by Standard & Poor's chief US economist, Beth Ann Bovino says, in the latest POLITICO Money podcast, that the nation would be in much better shape if women's participation in the workforce had not stalled out in the 1990s. High among the reasons: the lack of mandated paid maternity and paternity leave.
More than four decades after NASA launched the Voyager probes, the twin robots are still humming along in deep space. In fact, reports Business Insider, on Nov. 29, the space agency fired up one of the robot's thrusters after 37 years of dormancy — and they worked flawlessly.
Most federal agencies improved their employee happiness scores for the third consecutive year, but the need for more effective leadership continues to hold back greater improvement, reports FCW.
Contracts:
Booz Allen Hamilton, McLean, Virginia, has been awarded a $28,035,789 modification (P00009) to foreign military sales (Saudi Arabia) contract W91CRB-14-C-0048 to support the Royal Saudi Land Forces Armor Corps in Riyadh, Saudi Arabia. Work will be performed in Riyadh, Saudi Arabia, with an estimated completion date of Dec. 31, 2019. Fiscal 2018 military construction funds in the amount of $14,017,894 were obligated at the time of the award. US Army Aberdeen Proving Ground, Maryland, is the contracting activity.
Fors Marsh Group LLC, Arlington, Virginia, is being awarded an estimated $9,815,519 firm-fixed-price modification (P00006) to H98210-15-D-0001 to exercise option period three for market research and survey services. This contract provides for survey services, as well as market research and analysis, in support of the Joint Advertising and Market Research military recruiting research efforts. The period of performance for option period three is from Dec. 15, 2017, through Dec. 14, 2018. Work will be performed in Alexandria, Virginia. No funds will be obligated at the time of award, funds will be released as individual task orders are issued. The Defense Human Resources Activity – Contracting Directorate, Alexandria, Virginia, is the contracting activity.