Bluegrass Extravaganza for Hospice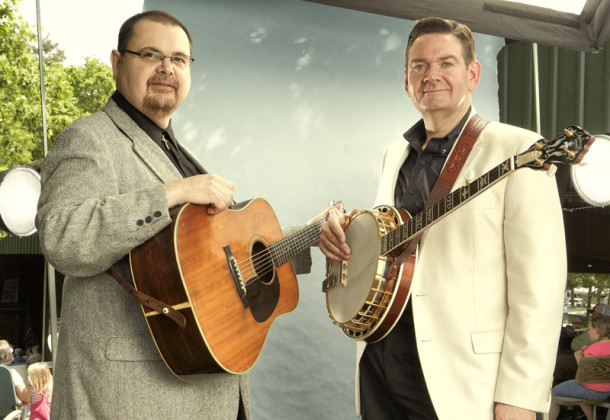 Posted for Great Mills Trading Post
Joe Mullins and Junior Sisk reunite for a Hall Of Fame Bluegrass Extravaganza, tickets now available
For its seventh year, Bluegrass for Hospice will raise cash for Hospice of St. Mary's, Hospice House in Callaway, Maryland.
The Bluegrass event is set to start at noon Oct. 24, 2015, at Flat Iron Farm in Great Mills, Maryland. The ticket includes Rebel Recording Artists: Junior Sisk and Ramblers Choice, Joe Mullins and the Radio Ramblers along with a special tribute to the legends of Bluegrass music by Junior Sisk and Joe Mullins.
These acts are two of today's greatest traditional acts in Bluegrass music. In addition to their acts, Sisk and Mullins will team up for a rare performance featuring songs from their "Hall of Fame Bluegrass" CD on Rebel Records.
Also on hand will be some of St. Mary's County's finest local Bluegrass talent including: Charlie Thompson & Bottom County Bluegrass, Bluegrass Gospel Express, Bubby Abell & Spoon Creek, Recycled Bluegrass, David & Joe Norris, and "Cousin's In Harmony"-Jay Armsworthy and Woody Norris. Troy Jones will provide sound for the day's event. There will be many door prizes, 50/50 raffles, silent auctions, and craft vendors set up inside.
The audience can participate in helping the region's residents by donating a non-perishable food item for Helping Hands Food Pantry of Southern Maryland. This year's event is in memory of Billy Morgan, who was one the biggest sellers of raffle tickets for the money raffle each year.
Junior Sisk & Ramblers Choice were part of Bluegrass for Hospice-2013. With two number one singles from their latest Rebel release, "Honky-more Tonked To Death," spending nine months on the Bluegrass charts, Junior is living proof that hard core bluegrass can still be successful and relevant in the 21st century. They perform hard-driving, lonesome, traditional bluegrass music. Sisk's soulful, heartfelt vocals earned him the 2013 IBMA Male Vocalist of the Year award. They have also helped him, along with his band, Ramblers Choice; earn a number of other awards over the past several years, including 2014 SPBGMA Bluegrass Band of the Year. Any fan of traditional Bluegrass will appreciate the quality of musicianship, songwriting, and singing that Junior Sisk and Ramblers Choice deliver.
JMRR's professionalism and successful, heavily played recordings have kept them in demand with a national audience where they have been seen by thousands of fans across the continent at nearly every national bluegrass event. In 2014, JMRR donated $3,000 to the Patriot Guard, which was 100 percent of proceeds from the digital download of their single, "The Last Parade." They have been frequent guests at the Grand Ole Opry since their debut there in July 2013. The Radio Ramblers have hit on just the right combination of bluegrass, traditional country, and gospel music to propel them into the top tier of today's touring bands.
Tickets for Bluegrass for Hospice-2015 are currently on sale for $25 in advance and will be available at the door for $30. Children younger than 12 are admitted free with a paid adult. To purchase by mail, send a self-addressed stamped envelope along with a check made payable to "Hospice of St. Mary's" and mail to P.O. Box 741, California, MD, 20619. To purchase with a credit card, go to www.bluegrassforhospice.com/4 and click on the Brown Paper Ticket tab.
Food will be provided for sale by the "3rd District Optimist Kruzin' Kafe" and will feature some fine Southern Maryland style cooking at affordable prices. Non-perishable food items will be collected for the Helping Hands Food Bank. Please bring your lawn chairs and BYOB. The event will be held inside a handicap accessible barn with outdoor bathroom facilities.
The doors open at 11 am and the festivities begin at noon.
For more information, call 301-737-3004, email [email protected], and check the website at www.bluegrassforhospice.com.