Big Budget = Many Military Impacts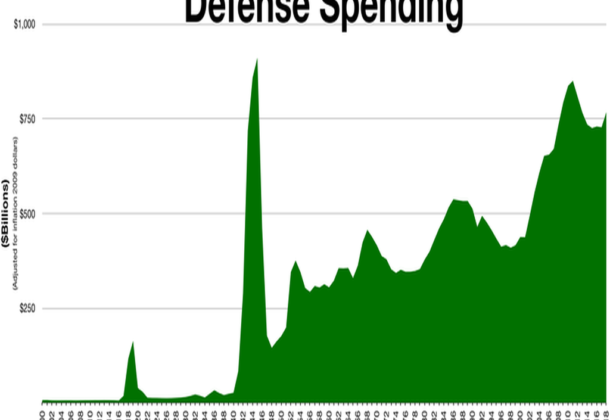 Morning Coffee is a robust blend of links to news around the internet concerning the Naval Air Station Patuxent River

economic community. The opinions expressed here do not reflect opinions of the Leader's owners or staff.
Military Times reports on some lesser reported military details in the $1.3 trillion omnibus budget bill just signed by President Donald Trump, among those details: no BRAC provision, no changes to GITMO, and no more credit card use at strip clubs.
Customs and Border Protection is preparing to move thousands of its IT workers in the Washington, DC, area to a centralized campus facility in Northern Virginia, reports FCW.
Congress and a range of IT vendors and service providers in the government market call on the DoD to reconsider a single provider for it cloud procurement project and that security requirements could prevent many vendors from competing, reports FCW.
FCW reports the Navy will shut down a top IT position that provided cybersecurity and privacy policy guidance for the Marines and Navy in a  reorganization effort "to help rapidly prioritize and accelerate business transformation initiatives," according to Navy Under Secretary Thomas Modly.
DARPA investigates artificial intelligence use in "gray zone" conflicts which remain below the level of conventional warfare, report Military Times. The research programs seeks to develop software to gauge an adversary's response and discern the adversary's intentions and give commanders intel on how to respond.
The US Air Force may have to cut its purchases of F-35s by a third if it can't find ways to reduce operations and support costs by as much as 38 percent over a decade, Bloomberg reports on an internal analysis. It may cost as much as $1.1 trillion to keep the F-35s flying and maintained through 2070, according to the current estimate from the Pentagon's independent cost unit.
Two Norfolk-area bases and the aircraft carrier George H.W. Bush are set to host 350 French Navy aviators and their support personnel for training from early April until mid-May, Naval Air Forces Atlantic announced.
The discovery of 81 new archaeological sites confirms up to a million people lived in a region in the Amazon before the arrival of Europeans, reports Newsweek. The discovery, reported in Nature, upends previous population estimates in the Americas.
Ustream gives a video tour of Wallops Island and what goes on there.
Military Times reports DefSec Jim Mattis will investigate whether additional protections can be found for military spouses facing deportation. Last month, Mattis announced an agreement to ensure active duty forces and honorably discharged veterans under the government's Deferred Action for Childhood Arrivals program would be protected from deportation.
At least 12 states signal an intent to sue to block a question about citizenship the Trump administration has added to the 2020 census, arguing that the change would cause fewer Americans to be counted and violate the Constitution, reports The New York Times.
Poland signs purchase agreement with US for Raytheon's Patriot medium-range AMD system, report Defense News.
Contracts:
Auxiliary Systems, Norfolk, Virginia (N42158-18-D-S001); Delphinus Engineering, Eddystone, Pennsylvania (N42158-18-D-S002); East Coast Repair, Norfolk, Virginia (N42158-18-D-S003); Epsilon Systems, Portsmouth, Virginia (N42158-18-D-S004); G.I. Industrial Marine, Portsmouth, Virginia (N42158-18-D-S005); L-3 Unidyne, Norfolk, Virginia (N42158-18-D-S006); Oceaneering Intl., Chesapeake, Virginia (N42158-18-D-S007); Orbis, Mt. Pleasant, South Carolina (N42158-18-D-S008); Q.E.D. Systems Inc., Virginia Beach, Virginia (N42158-18-D-S009); and Te'cnico Corp., Chesapeake, Virginia (N42158-18-D-S010), are being awarded a combined cumulative $99,567,165 in cost-plus fixed fee, indefinite-delivery/indefinite-quantity multiple award contracts to provide non-nuclear production support for US naval ship and vessel projects/repairs. The services under these contracts cover welding; marine pipefitting; shipfitting; blasting; painting; equipment in-place repair, removal, repair, and installation; sheet metal forming, shaping, cutting and stamping; electrical/electronic repairs and modernization; electrical/electronic alteration; pump/motor and ship's mechanical systems repair and alignment; tank cleaning; rigging; and temporary scaffolding removal/installation for Navy waterborne vessels, surface ships and submarines for upcoming availabilities. Work will be performed in Portsmouth, Virginia, and is expected to be completed by September 2019. If all options are exercised, work will continue through September 2023. Fiscal 2018 operations and maintenance (Navy) funding in the amount of $100,000 ($10,000 minimum guarantee per contract) will be obligated at time of award and expire at the end of the current fiscal year. These contracts were competitively procured via the Federal Business Opportunities website, with 10 offers received in accordance with Federal Acquisition Regulations Part 15.  The Norfolk Naval Shipyard, Portsmouth, Virginia, is the contracting activity.
Peraton Inc., Annapolis, Maryland, is being awarded an $8,191,013 modification to previously awarded firm-fixed-price, cost-plus-fixed-fee, indefinite-delivery/indefinite-quantity contract N00174-11-D-0002 to extend the ordering period and exercise Option Year VII for the procurement and support of the Transmitting Set, Countermeasures AN/PLT-4 to support explosive ordnance disposal personnel. The AN/PLT-4 is a man-portable system in support of the Joint Service Explosive Ordnance Disposal Counter Radio Controlled Improvised Explosive Device Electronic Warfare program. Work will be performed in Annapolis, Maryland, and is expected to be completed by March 2019. No funds are being obligated at the time of this action. The Naval Surface Warfare Center Indian Head Explosive Ordnance Disposal Technology Division, Indian Head, Maryland, is the contracting activity.