BAMS Leader Recognized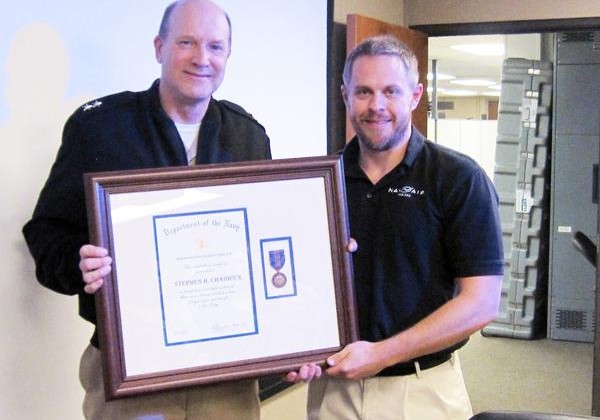 Stephen Chadwick's leadership style has been called inspirational.
So few were surprised when Chadwick, the integrated product team lead for the Broad Area Maritime Surveillance (BAMS) Unmanned Aircraft System (UAS) program (PMA-262), received the Navy Meritorious Civilian Service Award at an all-hands meeting at Naval Air Station Patuxent River Feb 2.
"Steve's expertise and acquisition knowledge have allowed him to superbly manage a program that will have lasting positive impacts," said Capt. Jim Hoke, who leads the Persistent Maritime Unmanned Aircraft Systems Program Office, which has oversight of BAMS UAS. "It's no small feat to keep a rather large and diverse team focused on its mission, while ensuring daily program tasks are completed in the best interest of our country and our warfighters."
Chadwick's award recognized his execution of the BAMS UAS $25 billion program, launching wide-ranging and long-lasting improvements. He ensured the BAMS UAS team worked with the Air Force Global Hawk Systems program office to identify and implement common efficiencies across similar platforms. These initiatives reduced operations and support costs and helped the Navy achieve more than $4 billion in savings and prevent single-service costs to the platform.
"I am surprised and humbled by this award," Chadwick said. "It is a testament to the open communication among the BAMS team, which enabled program leadership to make informed, balanced and responsible decisions. It's truly a reflection of the BAMS team's diligence and character, and I can't thank them enough for how they've executed the program."
Chadwick led the BAMS UAS team's successful completion of the initial phase of the system development and design effort, including the requirements review, schedule risk assessment, system functional review, integrated baseline review, preliminary design review and critical design review. He has been with the BAMS UAS program since 2007 and is transitioning into his new role as the integrated product team lead for future capabilities, focusing on EP-3 transition, communications relay and other emerging intelligence, surveillance and reconnaissance advanced technology and capabilities.
Beyond recognition for his BAMS UAS work, Chadwick has received other applause. In 2009, he was named PMA-262's professional of the year. He received a bronze award from the 2011 Baltimore Federal Executive Board Excellence in Federal Career Awards in the outstanding supervisor category.
A contract specialist early in his career, Chadwick has been at NAS Patuxent River for the past 10 years. He previously worked as an analyst in Defense Acquisition at the Congressional Research Service on Capitol Hill, where he helped draft legislation and provided other congressional staff support on a variety of intelligence and acquisition matters. He also served on the staff of the Program Executive Officer for Satellite Communication, Teleport and Services Acquisition at the Defense Information Systems Agency.
The Navy Meritorious Civilian Service Award is given to U.S. naval employees for service or contributions resulting in high value or benefit to the department. The award consists of a certificate and citation signed by the activity head, medal and lapel emblem. It is the third highest Navy civilian award.
Source: PEO(U&W) Public Affairs