Army Testing Pan-Coronavirus Vaccine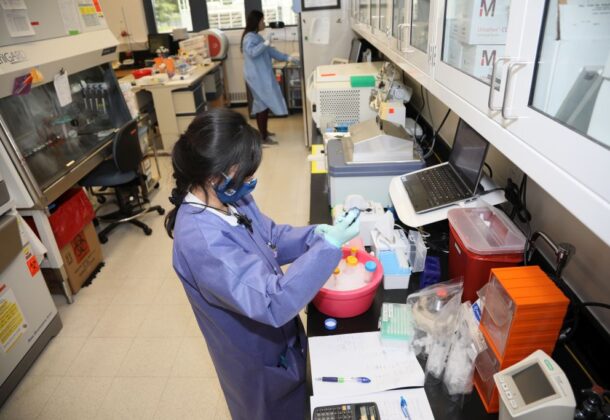 Morning Coffee is a robust blend of links to news around the internet concerning the Naval Air Station Patuxent River

economic community. The opinions expressed here do not reflect opinions of the Leader's owners or staff.
"This may not be the big one": Army scientists warn of deadlier pandemics to come. Defense One reports that the service is closing in on a "pan-coronavirus" vaccine and on synthetic antibodies that could protect a population before the virus spreads. "If we try to chase the viruses after they emerge, we're always going to be behind," said Dr. Kayvon Modjarrad, director of Walter Reed's infectious diseases branch. "So the approach that we took with our vaccine, the nanoparticle approach, in which we can place parts of different coronaviruses on to the same vaccine to educate the immune system about different coronaviruses all at the same time." Walter Reed's vaccine is now in the early stages of human trials.
The positions of two NATO ships were falsified near a Russian Black Sea naval base, reports USNI. Data shows that they sailed directly to Sevastopol, approaching to within two nautical miles of the harbor entrance. The strategic port houses the headquarters of Russia's Black Sea fleet. Despite an automatic identification system (AIS) signal, there is clear evidence that the two warships did not leave Odessa. While the motives for the deception are unclear, the move raises questions about the efficacy of open-source intelligence data, such as AIS, which is becoming more common in defense and used by journalists.
The US armed forces have more than 73,000 enlisted medical personnel who need to be ready to provide care in combat theaters at any time. But training oversights could leave military medics unprepared for combat, reports Military.com. The DoD does not have adequate systems in place to track these troops' preparedness, raising concerns that not all will be able to perform in operational settings, according to a report from the Government Accountability Office.
A pilot program to help military families pay for child care in their homes will kick off in July, reports Military Times. The new initiative will be offered in five regions that have a high demand for child care and the longest wait lists: the National Capital Region, Hawaii, San Diego, Norfolk, and San Antonio.
Four times as many troops and vets have died by suicide as in combat, reports Military Times. The suicide rate among active-duty troops and veterans has outpaced the also-rising rate in the general population in recent years.  There's no one reason for it, according to a study released Monday by the Costs of War Project, which also found the way the DoD and VA track suicides might mean even their growing numbers are incomplete.
The FAA and Air Force signed an agreement on commercial launches from Space Force bases, reports C4ISRNET, designed to eliminate red tape affecting commercial rocket launches at US Space Force ranges. The two parties said the memorandum removes duplicative processes and approvals for commercial space activities originating from or returning to Cape Canaveral Space Force Station in Florida and Vandenberg Space Force Base in California.
Ever Given owners make a new offer to Suez Canal Authority, reports gCaptain. Stann Marine, which represents the owners and insurers of the Ever Given, said, "Over the course of more than 15 days and in extended, long and arduous, but positive working sessions, negotiations are taking place." The details will remain confidential. The SCA's chairman previously said the owners had offered to pay $150 million.
FCW reports that the federal government's top cybersecurity watchdog still lacks visibility into agency network defenses and does not require best practices compliance across government agencies. Brandon Wales, the acting director of the Cybersecurity and Infrastructure Security Agency, was responding to Sen. Ron Wyden (D-OR) who is asking why CISA failed to detect network traffic between agencies that had downloaded a corrupted update from SolarWinds.
A poll of 2,000 Americans has found that members of the military community — active-duty personnel, veterans, and their family members — are twice as likely as civilians to believe persons with post-traumatic stress disorder are violent or dangerous; 35% of these "military-connected" individuals believe that PTSD is not treatable. A disheartening finding, said Anthony Hassan, president of the not-for-profit Cohen Veterans Network.
A JEDI cloud update is coming soon, according to Deputy DefSec Kathleen Hicks. Defense One reports the Pentagon is nearing a decision on its enterprise cloud effort in the next month as litigation around the Joint Enterprise Defense Infrastructure contract continues. "We have a good sense of what our needs are and we're working through what the potential solutions  are," Hicks said.
Britain's newest aircraft carrier, HMS Queen Elizabeth — with 10 Marine Corps F-35s onboard — is taking on more operations against the Islamic State group in Iraq, reports Marine Times. It has piqued the interest of Russian warplanes, who try to keep tabs on those cutting-edge F-35 jet in a "cat-and-mouse" game with British and US pilots.
The Reagan Carrier Strike Group is in the Indian Ocean, heading to the Middle East, reports USNI, to support the US withdrawal from Afghanistan. Reagan will relieve USS Dwight D. Eisenhower (CVN-69), which has been operating in the Middle East since April and is on its second deployment within a year.
The US is preparing to pull some of its forces and defenses — mostly air defense systems — from the Middle East this summer as it adjusts to the war ending in Afghanistan and shifts its focus to challenges from major adversary nations, reports Military.com.
More cost overruns are coming for Boeing as the KC-46 program logs another two technical deficiencies, reports Defense News. Boeing will have to pay to fix two new technical problems afflicting the KC-46 refueling tanker, which the Air Force has designated as critical issues: Drain tubes in the air refueling receptacle can become cracked when the tanker operates in cold temperatures. A software bug in the  Flight Management System has triggered "navigation anomalies," according to Boeing.
Iranian officials blame "technical fault" for an emergency shutdown at the country's only nuclear power plant, reports Radio Free Europe. Iranian authorities say the power plant in the southern port city of Bushehr will be reconnected to the national electricity network "within the next few days" after the issue is resolved.
Contracts:
Lockheed Martin Corp., Liverpool, New York, is awarded a $24,622,187 cost-plus-fixed-fee, firm-fixed-price, cost-plus-fixed-fee, and cost only modification to previously awarded contract N00024-19-C-6120 to exercise an option for navy equipment, components, engineering services and other direct costs. Work will be performed in Liverpool, New York (66%); Millersville, Maryland (33%); and Marion, Massachusetts (1%), and is expected to be completed by September 2023. Fiscal 2020 shipbuilding and conversion (Navy) (21.7%) funds in the amount of $4,986,804; fiscal 2021 shipbuilding and conversion (Navy) (7.0%) funds in the amount of $1,616,254; fiscal 2020 other procurement (Navy) (5.6%) funds in the amount of $1,302,163; and fiscal 2021 other procurement (Navy) (65.7%) funds in the amount of $15,109,588, will be obligated at time of award and will not expire at the end of the current fiscal year. The Naval Sea Systems Command, Washington Navy Yard, Washington, DC, is the contracting activity.
Mobius Consulting LLC, Alexandria, Virginia, is being awarded a $64,455,271 competitive cost-plus-fixed-fee level-of-effort contract with a two-year base value of $13,295,467, two 2-year options, and one six-month option to extend services for Intelligence and Counter-Insider Threat advisory and assistance services.  The work will be performed in the National Capital Region; Dahlgren, Virginia; Huntsville, Alabama; Colorado Springs, Colorado; and other locations as directed with an estimated completion date of December 2027. This contract was competitively procured via publication on the beta.SAM.gov website with three proposals evaluated.  Fiscal 2021 research, development, test and evaluation funds in the amount of $2,687,229.00 are being obligated at time of award. The Missile Defense Agency, Huntsville, Alabama, is the contracting activity (HQ0858-21-C-0013).
Leidos Inc., Reston, Virginia, was awarded a $12,757,260 modification (P00032) to contract W58RGZ-20-C-0024 for the Saturn Arch Aerial Intelligence Systems Quick Reaction Capability program. Work will be performed in Reston, Virginia; Bridgewater, Virginia; and Huntsville, Alabama, with an estimated completion date of March 16, 2024. Fiscal 2021 operation and maintenance (Army) funds in the amount of $12,757,260 were obligated at the time of the award. US Army Contracting Command, Redstone Arsenal, Alabama, is the contracting activity.