Timing and Preservation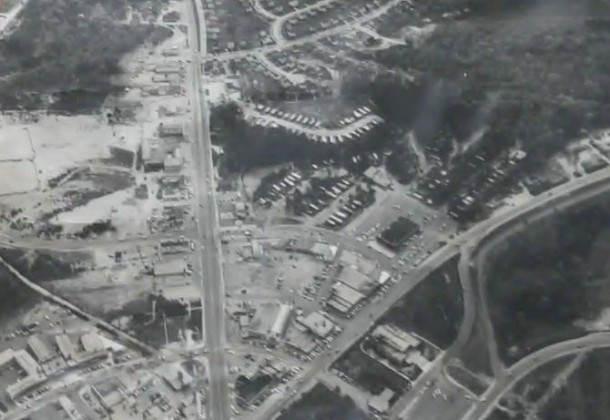 By Viki Volk
Publisher
When Route 5 bypassed its business district in 1996, Leonardtown needed to revitalize, and it realized two fortuitous pieces of timing.
One was in contemporary time. The Route 5 bypass coincided with a population influx from Warminster, Pa., which followed the transition of the Naval Air Systems Command to Naval Air Station Patuxent River.
The other was historic.
Leonardtown stuck with what they had, said Gene Kopp, a 30-year veteran of Lexington Park, Maryland's Millison Development. They stuck with their old, existing buildings. Buildings so old they were historic.
"But you've got to have the market," Kopp said. "The market and sticking with what you've got."
Lexington Park's history has been a series of population influxes, obvious in an aerial map of Lexington Park in the late 1950s or early 1960s that Mr. Kopp keeps in his office. He arrived in 1972, and much of what is in the photo was already gone by then.
[youtube=http://www.youtube.com/watch?v=AtDVNshgUgg]
In his three decades with Millison Development, Kopp has seen two Lexington Park master plans come and go, and a third has now come to rest on his conference room table.
His hand hovered over the map where Millison Plaza would have been if the map had shown what exists today.
"Gone," he said. His hand hovered a moment longer. Then he swept his arm away, pushed from the table and cocked his head back. He offered a small grin and a slight shake of his head. "Gone," he said again.
He reaches across the table and puts his finger on the map.
"Here is a parking garage" he points into the empty swath of the map that would have been Millison Plaza. He shakes his head again.