Air-to-Air Refueling Next Test for Osprey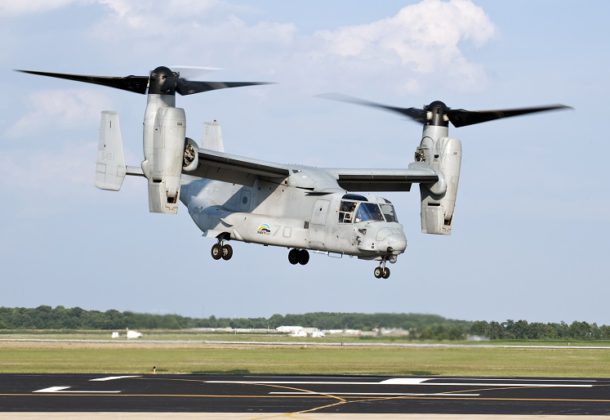 Morning Coffee is a robust blend of links to news around the internet concerning the Naval Air Station Patuxent River

economic community. The opinions expressed here do not reflect opinions of the Leader's owners or staff.
The Marines are testing the ability of its MV-22 Osprey tilt-rotor aircraft to refuel the F-35B Joint Strike Fighter, The National Interest reports. "This was the first time an MV-22 has refueled an F-35. Both ground refueling and air-to-air refueling are important pieces to the Marine Corps' MAGTF [Marine Air-Ground Task Force] operational construct," USMC Maj. Adam Geitner said.
By the numbers: What the Navy's 2017 budget tells about the status of the F-35B and F-35C, as reported in The Strategist.
Lockheed Martin is preparing new assembly lines as production of F-35 Joint Strike Fighters is expected to increase, Defense One reports. Despite development problems with the jet, production has been slowly rising.
International Business Times reports US foreign sales of aircraft and weapons is on track to exceed its profits from last year. The Middle East is among the major buyers.
For the second time, SpaceX lands a Falcon 9 rocket on a platform in the Atlantic Ocean, IUSB Preface reports. The rocket had returned after delivering a communications satellite into orbit.
VX-23 from Naval Air Station Patuxent River was among the participants in a large force exercise in Southern California. The exercise tested new software configuration sets for the F/A-18 and EA-18G aircraft series, Aerotech News reports.
VADM Paul Grosklags, commander of the Naval Air Systems Command, visited Naval Air Station Jacksonville to meet with managers and tour the base. DVIDS reports. "It's important that I see one of the primary sites that contribute to overall aviation readiness whether that includes aircraft, engines or components. Military depot artisans are doing a great job and I wanted to see if there is anything we can do at NAVAIR to help ease the processes here," he said.
Meanwhile last week in Jacksonville, the Navy opened a new P-8 Maintenance Training Facility with a suite of realistic, interactive training systems, another key step in the service's efforts to fully integrate the aircraft into the fleet, Seapower magazine reports. The center will "provide the fleet with qualified technicians equipped with the skills and knowledge needed to keep the P-8A aircraft flying for many years to come," said Robert Powden, department head of the Navy's P-8A maintenance training unit.
US Army Lt. Gen. H.R. McMaster said the Chinese see island bases as a means to dominate the seas and airspace around them, reports Breaking Defense. The Chinese strategy has become more effective with the proliferation of long-range precision-guided missiles, he said.
A CNN poll finds that more Americans think the US military's fight against ISIS is doing well and that fewer people believe ground troops are necessary.
The Independent reports warnings from analysts that while the world focuses on ISIS, Al-Qaeda could be preparing to declare its own sovereign state in Syria.
Contracts:
Yorktown Systems Group, Huntsville, Alabama, is being awarded a $119,316,070 cost-plus-fixed-fee, level-of-effort contract (including options) for advisory and assistance services for office administration support to the Missile Defense Agency's (MDA) organizations to include foreign military sales in support of technical, engineering, advisory and management support.  This contract provides support to the MDA Chief of Staff Directorate, as well as embedded office administrative support to the agency's organizations. Work will be performed at Huntsville, AL; Colorado Springs, CO; Fort Greely, Alaska; Vandenberg Air Force Base, CA; Kirtland Air Force Base, NM; Hanscom Air Force Base, MA; Dahlgren, VA and the National Capital Region, with an expected completion date of July 2021. Fiscal 2016 research, development, test and evaluation funds in the amount of $4,340,590 are being obligated at time of award.  This contract was a competitively awarded acquisition with 14 offers being received. The government selected for award the most advantageous proposal representing the best value to the government. The Missile Defense Agency, Huntsville, AL, is the contracting activity (HQ0147-16-C-0033).
Harris Corp., formerly Exelis Inc., Colorado Springs, CO, has been awarded a $9,176,202 modification (P00654) to previously awarded contract F19628-02-C-0010 for system sustainment for Distributed Space Command and Control-Dahlgren. Contractor support includes program management, systems engineering, systems administration, software and hardware maintenance, and system test and evaluation. Work will be performed at Dahlgren, VA and is expected to be complete by April 30, 2017. Fiscal 2016 operation and maintenance funds in the amount of $5,522,949 are being obligated at the time of award. The Space and Missile Systems Center, Peterson Air Force Base, CO, is the contracting activity. 
Y-Tech Services, Huntsville, AL, was awarded an $18,112,580 modification (P00046) to contract W58RGZ-14-C-0007 for maintenance, repair, and logistics support for the Aviation Flight Test Directorate, Redstone Test Center. Work will be performed in Huntsville, AL, with an estimated completion date of May 4, 2019.  Fiscal 2016 research, development, testing, and evaluation funds in the amount of $3,468,000 were obligated at the time of the award. Army Contracting Command, Aberdeen, MD is the contracting activity.