Agent Orange Now Linked to High Blood Pressure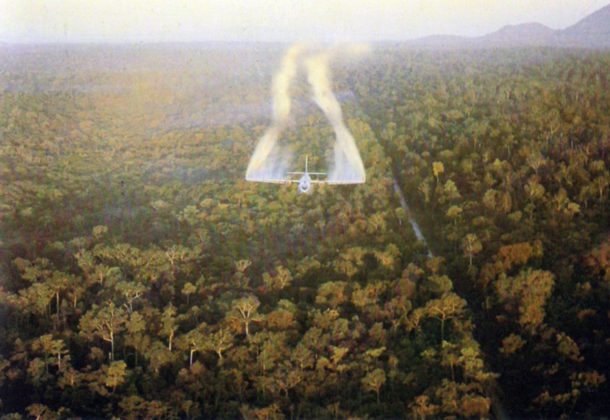 Morning Coffee is a robust blend of links to news around the Internet concerning the Naval Air Station Patuxent River

economic community. The opinions expressed here do not reflect opinions of the Leader's owners or staff.
More than four decades after the end of the Vietnam War exposure to the herbicide Agent Orange is now associated with high blood pressure, reports ProPublica. This could force the VA to expand benefits for more veterans.
A petition with more than 100,000 signatures opposing changes to Navy ratings failed to persuade the president to overturn the changes. White House concurred with Navy brass, that providing widely recognized credentials will improve chances for success in the private sector after service time, reports Stars and Stripes.
The Washington Post has the ISIS propaganda video showing its prowess on the battlefield as Iraqi troops slowly push into Mosul.
Retired Navy Capt. Michael Brooks pleads guilty in federal court in the "Fat Leonard" Asian defense contractor corruption case, reports The Washington Post. He faces a sentence of up to five years in prison and a $250,000 fine.
The Russian pilot of a fighter jet crash is fine. The jet was trying to land on Russia's sole aircraft carrier off the Syrian coast, reports The Washington Post.
As Vice President-elect Mike Pence takes official control of the transition efforts, The Hill reports he is kicking all lobbyists off the transition team. President-elect Donald Trump has been criticized for having lobbyists on the transition team given his pledge to "drain the swamp" in DC.
Senate Democrats pick Charles Schumer and Patty Murray to lead the new Congress. Bloomberg reports Schumer, known as a deal-maker, may be better equipped than was Sen. Harry Reid to work with Republican leader Mitch McConnell and the incoming administration.
A GOP sea change is rushing to embrace President-elect Trump, reports The Hill. com. Returning to Washington for the first time since Trump's historic presidential victory, GOP leaders handed out "Make America Great Again" hats at their conference meeting and Speaker Paul Ryan (R-Wis) referred to the president-elect by his first name, "Donald."
Trump can easily reverse Obama and fast-track the Keystone pipeline, reports The Washington Times.
The oil demand won't peak before 2040, reports Fortune. The International Energy agency says in its annual World Energy Outlook, "The difficulty of finding alternatives to oil in road freight, aviation and petrochemicals means that, up to 2040, the growth in these three sectors alone is greater than the growth in global oil demand."
Along with the reminder that Nov. 10 was the deadline for agencies to report security issues to Homeland Security, FCW reports, the memo from the administration noted that rules have changed for agencies reporting privacy and security issues to the Office of Management and Budget under the Federal Information Security Modernization Act.
US Postal Services posts $5.6B loss for 2016, reports The Hill, despite an increase in revenue.
Denver likely to become first US city to legalize social marijuana use, says Reuters.com. A measure making Denver the first US city to legalize use of marijuana in clubs, bars, and restaurants is expected to get enough votes to pass, backers and opponents of the initiative said Tuesday.
Contracts:
Bell-Boeing Joint Project Office, Amarillo, Texas, is being awarded $30,523,938 for cost-plus- fixed-fee modification to delivery order 0122 against a previously issued basic ordering agreement (N00019-12-G-0006) to provide support services for test planning and execution, flight clearances and technical reviews in support of the MV-22 aircraft.  Work will be performed at Patuxent River, Maryland (51.83 percent); Philadelphia, Pennsylvania (26.67 percent); and Fort Worth, Texas (21.5 percent), and is expected to be completed in September 2017. Fiscal 2017 aircraft procurement (Navy); and research, development, test and evaluation (Navy) funds in the amount of $30,523,938 will be obligated at time of award, of which $5,883,285 will expire at the end of the current fiscal year. The Naval Air Systems Command, Patuxent River, Maryland, is the contracting activity.
Constellation NewEnergy Inc., Baltimore, Maryland, has been awarded a $9,558,603 firm-fixed-price requirements type contract to supply and deliver retail electricity. This was a competitive acquisition with three responses received. This is a 24-month contract with no option periods. Locations of performance are Maryland; and New York, with a Dec. 31, 2018, performance completion date. Using customers are Department of Energy, Department of Labor, Air National Guard, and Customs Border Protection. No money is obligated at the time of award; however, customers are solely responsible to fund this requirements contract. The contracting activity is the Defense Logistics Agency Energy, Fort Belvoir, Virginia (SPE600-17-D-8007).