Acquisitions Chief Sees Leaner 2014 for Contractors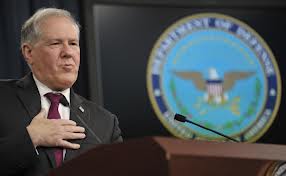 Morning Coffee is a robust blend of links to news around the internet concerning the Naval Air Station Patuxent River economic community. The opinions expressed here do not necessarily reflect those o

f the Leader's owners or staff.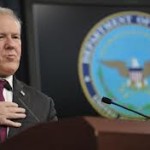 DoD acquisition's chief, Frank Kendall, foresees a leaner 2014 for contractors, reports the Washington Post's Capital Business. Acquisition and R&D programs will be impacted disproportionately if sequestration extends into 2014, reports Federal News Radio.
At the ComDef 2013 conference, Mr. Kendall said the Pentagon hopes to shield some aviation efforts, reports Aviation Week. Defense News reports he anticipates F-35 costs to drop.
Nevertheless, Adm. Jonathan Greenert, chief of naval operations says ships and aircraft will be lost, "from P-8s to F-35s," reports Aviation Week. DoD is looking oversees to keep up with R&D when domestic funds dry up, reports Defense News.
Wallops to launch its second commercial launch Sept. 17th, it's first last Friday night lit up the skies up the East Coast to Boston, reports Military.com.
BAMS missions to increase, says Examiner.com. Northrop Grumman received the $9,981,663 modification and will perform 70 percent of the work at NAS:Pax River.
Georgia Tech and Vanderbilt get the nod for NAVAIR's next-gen Avionics, reports Executive Biz.
NAS:Patuxent River gives T2 Buckeye to National Veterans Park in Florida, reports the Leader-Herald. A growing Cape Canaveral firm picks up operations contracts for both Webster Field and Solomons Recreation Center, reports The Orlando Sentinel.
A Lexington Park development  plan reaches St. Mary's County Planning Commission Monday night, reports The Enterprise. The hearing is open to the public at at 6:30 p.m. at the Bay District Volunteer Fire Department at 46900 South Shangri-La Drive in Lexington Park. A draft of the plan can be viewed online.
Northrop Grumman received a $9,981,663 modification to a previously awarded cost-plus-fixed-fee contract in support of the Global Hawk Maritime – Demonstrator. The services reflects increasing BAMS-D from nine to 15 missions per month. Work will be performed in Patuxent River, Md. (70 percent), and outside continental United States (30 percent), and is expected to be completed in May 2014. Fiscal 2013 operations and maintenance, Navy funds in the amount of $3,000,000 are being obligated on this award, all of which will expire at the end of the current fiscal year.