A Lex Park Founder Joins Philanthropy Hall of Fame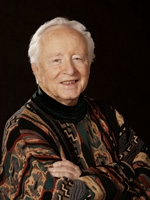 Successful business owner H. Thomas Waring, of St. Mary's County, is one of the 2013 Philanthropy Hall of Fame inductees, announces the Community Foundation of Southern Maryland.
Mr. Waring moved here at the age of 10 and stayed. He served in the Navy during World War II as a musician and is the father of seven children.
Mr. Waring helped found Lexington Park as a community.  As a real estate developer, Mr. Waring devoted his life to making a positive change to St. Mary's County, says the Community Foundation. From developing communities and building hotels to supporting local causes and providing scholarships towards education locally and globally, Mr. Waring touched countless lives through his generosity.
Other winners: Wilson H. Parran, Calvert County, the Deputy Secretary of Administration and Operations for the Maryland Department of Transportation, and Nancy Gasparovic, Charles County, Vice-President of the Alice Ferguson Foundation.
"It is with great pleasure that the Foundation has the privilege of recognizing three individuals from Southern Maryland who epitomize the best of community, leadership and philanthropy," said Ellen Flowers-Fields, Chairwoman of the Community Foundation of Southern Maryland.
For a complete list of annual award recipients, go www.cfsomd.org.