'70s in St. Mary's: Formative, Transformative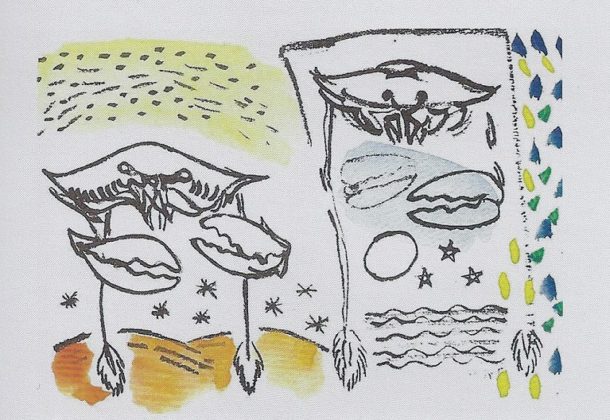 Artist Charlie Hewitt recently returned to Southern Maryland with his latest show, "The Banquet Years," which opened the newly dedicated Kay Daugherty Gallery at Annmarie Garden in Solomons.
A painter, sculptor, and printmaker, Mr. Hewitt now lives in Maine. However, he has deep roots in St. Mary's County, MD. He graduated from Great Mills High School and spent formative years as a young artist in St. Mary's. One of his earliest patrons was Kay Daugherty who remained a patron and close friend until her death in 2006. The mezzanine gallery at Annmarie Garden was dedicated to Ms. Daugherty on Aug. 12, 2016, and is designed to continue one of her dearest desires: to encourage and promote local artists by providing opportunities for them to be recognized and venues to display their work.
Ms. Daugherty and Mr. Hewitt were among the catalysts for a cultural renaissance in St. Mary's County that stretched from the  mid-1970s into the early 1980s and built of the need to find venues and opportunities for artists of many mediums.
Mr. Hewitt was interviewed as part of The SlackWater Center at St. Mary's College of Maryland in April 2007.
SlackWater is a consortium of students, faculty, and community members documenting and interpreting the region's changing landscapes. Oral histories are at the core of the center, which encourages students to explore the region through historical documents, images, literature, and scientific and environmental evidence. Some of this work is published in the print journal SlackWater, some of which is online and some published here. This interview with Mr. Hewitt was first published in spring 2009.
If You Can't Find the Beloved Community, Do Whatever You Can to Create It
Told by Charlie Hewitt

I was a different kind of animal. I had been radicalized by the events of the '60s, late '60s and I was a different generation. I wasn't interested in being an artist who created a sellable art form. I was more interested in talking about art for art's sake and what it meant to me to be an artist and how it related to my politics and my feelings about my time. I was a big personality; I had nothing to lose, I was here with a pocketful of change, and I could get good rent. I had no family responsibilities, and I was an entirely different animal [then]. It made it very easy for me to be a bad boy. I was smart and articulate and I knew I had a vision in mind that encompassed the whole community.
I felt the county had greater depth than just as a landscape of skipjacks and boats. I never lived on the water. I came from the military housing world. I hung out with kids from Lexington Park. I hung out on the streets at night, on Friday, Saturday nights when the town was full of bars and slot machines and drunken sailors. It was a different place. It wasn't a bad place, but it wasn't a place about ducks and boats and crabs and oysters. It was the inside of the beast. I found that to be noble and dignified and worth talking about.
I only had a couple of choices. It was either pump gas with my father or get a job at St. Mary's College. None of those were acceptable, and so, with my friends, I came up with a way to create an environment in St. Mary's County that could accommodate all of these energies, find a way to generate some income and make life in the morning really interesting.
It's not just connected with making a piece of art — it was about making a community. And that's what the Creative Arts Forum had. We had a sign on the side of the door, and I can only paraphrase it, but it said, "If you can't find the beloved community, do whatever you can to create it."
Impact of the Instant City
Things had been changing in the county very drastically. And we wanted to document that, so the Creative Arts Forum made a film of the [Governor Thomas Johnson] bridge being built over into Solomon's Island, which we knew needed to be documented. We knew the bridge was going to radically change the feeling in the county of being isolated and the sense of being secure because now, we were going to be closer to Washington, closer to Baltimore. And, sure enough, we have an eight-lane highway where there used to be a two-lane highway.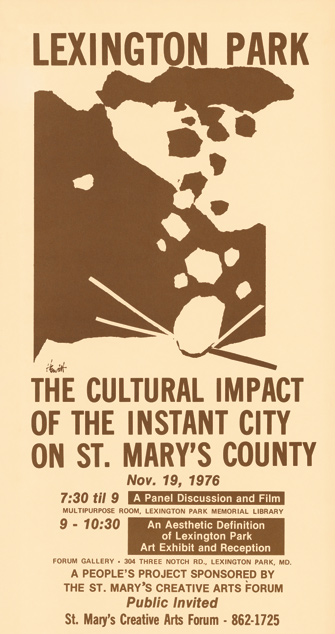 We got funding to do symposiums. The first one was called "The Impact of the Instant City on St. Mary's County," which was attended by both the new businessmen and a lot of old county people very interested in talking about what the county was like just a decade before this event.
We did a symposium on how to build a house. That sounds crazy now, but we had hundreds of people turn up. We hired people from Owens Corning Fiberglass, we had builders come, we had a guy who was a scientist of proxemics. I didn't even know this until then, that's the study of how people live and relate to each other. We had historians talk about the fact that the first homes the colonists built in St. Mary's County were pre-fab homes.
We had Larry Millison talking about how a trailer home is not such a bad thing, you know, everyone who has a trailer has a vote.
We had Alger Hiss [who in 1948, before the House Un-American Activities Committee, denied being a Communist spy] deliver a lecture at the Old State House.
We had art shows in the [Creative Arts Forum] gallery and art shows in offices in Lexington Park.
We had theatre performances on the waterfront [at St. Mary's City], everything from Shakespeare to Sheraton's Arrival to Cyrano de Bergerac to a one-act play written by David Davis about Margaret Brent.
We had two performances on the waterfront by the entire Baltimore symphony.
We did events that tried to get young people to voter registrations. We used the bars for that, that was sort of social context for the whole county, the three or four watering holes around the College — the Green Door, Captain Tom's, Leo's over there on 235 was another place.
Most people came to St. Mary's County for work of some kind. To teach at a new growing college or work at the ever-expanding, huge military base being developed down there. Most were originally from New Jersey, Pennsylvania, California; they were sailors who stayed in after the service; they were college students who stayed from Baltimore, Towson, people who stayed after college. We stayed because we wanted to, we were there because we chose to live in Valley Lee, or Hollywood, or California, or Lexington Park, or St. Mary's City, because that was our home. We had a different feel for the county.
And — this is an important point — we got tremendous resistance from the College and the [St. Mary's City] Commission, from the state institutions. A bunch of townies got together and prodded the two state institutions to respond to a need in the community, to be involved in the worlds the community controlled.
We felt very strongly about our community. And the fact that we got resistance from these institutions made our effort more enjoyable and worthwhile. It gave us purpose, and a lot of the reason we did this was because we were young and we could.
SPONSORED BY