50th Anniversary: Op Rolling Thunder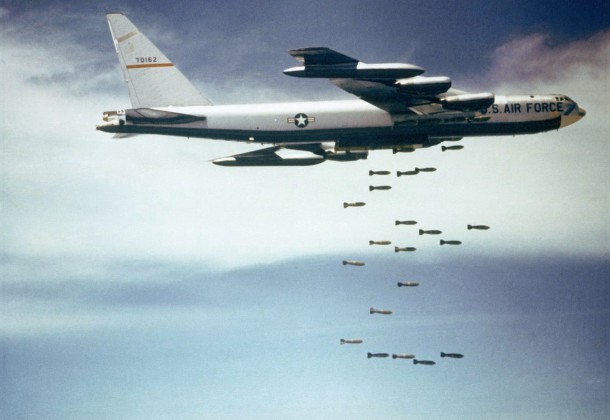 Morning Coffee is a robust blend of links to news around the internet concerning the Naval Air Station Patuxent River economic community. The opinions expressed here do not necessarily reflect those of the Leader's owners or staff.

Air Force Times reports on an emotional commemoration of the 50th anniversary of Operation Rolling Thunder, the massive B-52-led, first assault of a three-year, sustained campaign over North Vietnamese territory. More than 1,000 aircraft were lost. Vietnam veterans, their families, and Air Force leaders gathered Monday at the Air Force Memorial in Arlington, Virginia, to honor those lost in the conflict.
House Speaker John Boehner (R-OH) used procedural wrangling to deliver a nine-month funding bill for the Department of Homeland Security, late Tuesday afternoon, reports Politico. The 257-167 vote reflects opposition from Republican conservatives who sought to use the bill to also block President Obama's immigration policies.
A bipartisan group of legislators seeks to un-do cuts made in DoD per diem rates in 2014, reports Federal Times. DoD believes the cuts will save the military $22 million annually.
Navy drones are working beneath the ice of the Arctic Ocean to assess the rate of melt in preparation of strategic shifts anticipated in the region's waterways, particularly regarding Russia, reports DoD Buzz. Both nations have plans to expand their presences in the region.
Lifetime's Designing Spaces™  will feature California, MD's, Challenger Estates, in an episode to air March 5, at 7 am and repeat March 19, 7 am, reports Market Wired. Challenger Estates,  a Wildewood neighborhood, is one of six Lincoln Military Housing communities comprising 749 home serving families stationed at NAS Patuxent River.
Huffington Post shows some revealing photos in the series "The Veteran's Vision Project" created by photographer and college student Devin Mitchell and simultaneously show the professional and personal sides of veterans. The photographer seeks Kickstart funding to produce a book of the photos .
The Navy's FY16 budget makes clear it will be buying 44 of Bell-Boeing's V-22 starting in 2018 under an existing $6.5 billion five-year contract Bell-Boeing signed with the Marines in 2013, reports National Defense Magazine. The bypass of a traditional procurement process cut Northrup Grumman out of the running for the Navy's cargo aircraft buy.
The Washington Post presents 22 maps depicting the religious landscape of the United States.