Redevelopment Gets Green Light @ Great Mills Intersection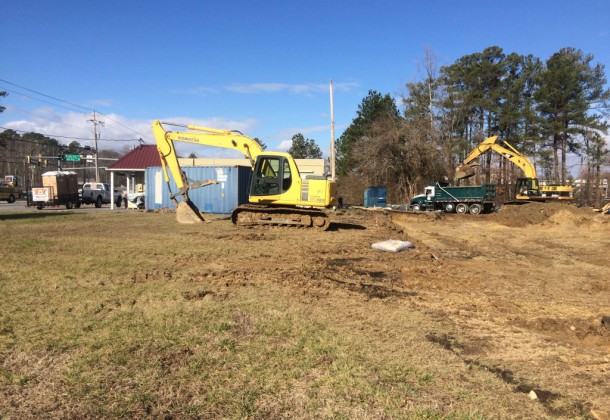 If you're one of the thousands of commuters slowing down through the Route 5 drop into Great Mills, you've got some new landscape to occupy yourselves through the queue-control traffic signals. There's something new going up on the corner.
The Friendly Tavern parcel, just south of Great Mills Trading Post at Route 5 and Indian Bridge Road, is something of a poster-child project for excessive permitting delays. The initial earthworks commenced in late February 2016, 10 years after the first development permit was sought.
Upgrading this segment of MD Route 5 has long been a target of private and public investment interest. Although Maryland State Highway Administration officials frequently study the road, the old MD Route 5 bridge through Great Mills, built in 1956, has stood as something of a show stopper, forcing into a single lane of traffic motorists associated with three of the region's largest employment centers: NAS Patuxent River, Webster Field, and St. Mary's College of Maryland.
SHA is inviting interested people to attend a March 15 workshop for the Maryland 5 Great Mills Improvement Study, which is located along MD Route 5 from Point Lookout Road between MD Route 246 (Great Mills Road) and MD Route 471 (Indian Bridge Road).
The area is a transportation hub. The choke results from convergence of three, simultaneously narrowing feeder roads.
The meandering Indian Bridge Road is possibly the least of the problems. It's a connector from MD Route 4 and narrow the entire 4.7 miles where it meets MD Route 5 at the most northern of the three involved intersections.
A few yards south is the crux of the problem, the narrow old bridge. The bridge itself just south of Great Mills Road where the workforce from NAS Pax River funnels from a five-mile-long, dual-lane highway into a single-file merge that then merges again with a solid line of Webster Field workers heading north on Route 5. And every vehicle, one by one, crosses that narrow, old bridge and then queues up to wait a turn at the Indian Bridge Road intersection ahead.
Business interests, citing Base Realignment and Closure activities and federal government downsizing as community threats, don't like backed-up traffic and they don't like permitting delays. To counter any threat to a region's workforce, the arsenal of counter techniques always includes the recommendation that business growth in the region be made as attractive and smooth as possible. These are not the qualities developers and business owners associate with Maryland, which is often criticized for cumbersome permitting requirements.
Economic development leaders and advisers to the region repeatedly report findings that show the ease of relocation and growth are significant draws for new business and business growth. An interested developer and a public need should have accelerated permitting for redevelopment, according to economic development recommendations becoming louder in St. Mary's County. Without government disagreement, they cite the need to simplify and expedite permitting.
It finally has come together for redevelopment in Great Mills. The Great Mills Trading Post's start of work is the first major activity the area has seen since St. Mary's County opened a kayak launch into the St. Mary's River in 2009.  The properties are contiguous.
Today Ebby's Finishing Touches, a unique interior design firm, operates from the original Friendly Tavern building at the southeast corner of Route 5 and Indian Bridge Road.
It might be that the redevelopment can add more reasons to just pull off, pause a bit, and avoid the traffic altogether. Those of us passing through will be watching!
In the meantime, those interested can get more information at an Alternatives Public Workshop for the Maryland 5 Great Mills Improvement Study. The purpose of the study is to improve existing traffic operations, address design deficiencies, and provide safety upgrades for vehicles, pedestrians, and cyclists.
The workshop will be held from 6 to 8:30 pm Tuesday, March 15, 2016, at Great Mills High School at 21130 Great Mills Road in Great Mills. The snow date will be Tuesday, March 29.
The workshop will present maps and other exhibits of the preliminary alternatives under consideration, traffic data, and potential environmental impacts. The meeting will provide an opportunity for study team members to hear project-related comments, explain the project planning process, present the purpose and need statement, and share the preliminary findings of the study. Guests may arrive at any time during workshop hours and walk through at their own pace. There will be no formal presentation.
For additional information, click here.